On January 27th 2020, on the initiative of Bettina Hahne, SIE representative to the Council of Europe, 60 Soroptimists from Belgium, Switzerland, Germany and France gathered in Strasbourg for a meeting with at the Council of Europe, organised by French Soroptimists. This institution brings together 47 European States, whose aim is to strengthen human rights, democracy and the rule of law in Europe and beyond. The Council of Europe assists its member states in carrying out political, legislative, constitutional and judicial reforms.
It adapts to new challenges such as:
Cybercrime
International terrorism
Trafficking in human beings
Violence against women
Child sexual abuse
Cécile Gréboval, Programme Officer of the Division for Equality between Women and Men, brought to our attention the ISTANBUL Convention, which aims to prevent and combat violence against women and domestic violence. The Parliamentary Assembly's strategy for 2018-2023 is based on an integrated and inclusive approach to the promotion of gender equality (combating gender stereotypes and sexism; preventing and combating violence against women; ensuring women's equal access to justice; etc.).
This is the current situation:
The current approach, based on the "4Ps":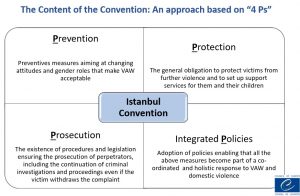 It insists on the fact that it is not only a question of granting rights to women but also of changing behaviours so that women can have opportunities.
Maryvonne BLONDIN, French Senator and member of the Parliamentary Assembly of the Council of Europe, talked about future challenges:
"Great attention must be paid to migrant women and girls. They suffer violence in their countries and during their exodus. Greater attention must also be paid to women who are victims of genital mutilation".
"Gynaecological-obstetrical violence and "benevolent motherhood", as well as the need to develop a "savoir être"".
According to her observations, many countries (Poland, Turkey, Hungary, Bulgaria) have taken steps backwards in the rights for women.
At the end of this visit, the growing importance of our role is reassured; we must remain vigilant because nothing can be taken for granted. Soroptimist International of Europe is and remains an essential link between politicians and the public.
We concluded our visit by attending the Parliamentary Assembly meeting. Its' new President, the Belgian Rik DAEMS, assured us in his inaugural speech that compliance with the Istanbul Convention is a key priority for him.