Silvana Arbia is a woman who has taken on some of the most challenging positions in the world. For almost nine years she worked as a Prosecutor at the International Tribunal for Rwanda (I.T.C.R.), where she represented the prosecution against those responsible for the genocide of almost one million people. She continued to represent the victims of the gravest crimes against humanity as Registrar of the International Criminal Court. The very first trial she was involved in there was related to the war crime of child recruitment – something Silvana would like to tell us more about through her foundation's work.
Soroptimist International of San Marino submitted Silvana's application as a candidate for the 2013 Soroptimist International of Europe Peace Prize. The decision to present her with the award was understandably unanimous. That prize of 20,000 Euros, became the first brick of the Arbia Foundation, created to invest in the future of women and children in the countries of the African Great Lakes.
Silvana Arbia in Berlin 2013 receiving the S.I.E. Peace prize
The pandemic has made it impossible for us to carry out projects and support our commitments without creativity, dedication and support.  We have developed two initiatives to help us continue our work:
A competition aimed at students attending secondary school in San Marino. The students are asked to write a letter addressed to child soldiers and/or prepare a drawing referring to child soldiers in the world.
A lottery to create funds to be used in favour of mothers and child soldiers living in the Democratic Republic of Congo. Tickets cost 2.00 Euros each – you can buy them before 25th June 2021 by clicking on the button below and support Foundation Arbia in its fight against the use of child soldiers.
Click HERE to support the lottery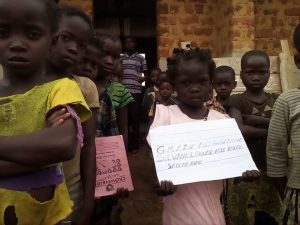 To make a donation and for further information
BANK: B.A.C. Dogana (RSM)
IBAN: SM 08 B 03034 09800 000060166843
SWIFT BASMSMSMXXX