When attending Generation Equality Forum's Paris event this summer, it was clear that something was different. It marked a much-needed shift of perspective, for behind the passionate and well-financed drive for change is an unfortunate truth.
According to experts, very little has improved since the 4th World Conference on Women in Beijing, already 26 years ago and now. COVID-19 has exacerbated issues linked to gender inequality and made the situation more serious than before. The pandemic has resulted in women being exposed to even more discrimination, inequality and fragility by deepening poverty, increasing violence against women and cutting access to essential social services, schooling and healthcare.
Florence Mangin, the French Ambassador to Portugal (left) and Rita Nogueira Ramos, SIE 1st Vice President 2019-2021 in charge of Advocacy (right)
The forum, held in Paris from 30 June to 2 July, hosted understandably fevered discussions. The voices were tired that, against all promises made during the past years, over 2.1 billion women and girls will not be likely to reach gender equality by 2030.
Heads of state, heads of international organisations, leaders and activists opened and took part in GEF Paris 2021 and reached almost 50,000 people with the event's gender equality commitment announcements. UN Executive Director of Women, Phumzile Mlambo-Ngcuka; the President of France, Emmanuel Macron; UN Secretary-General, Antonio Guterres; and President of the European Council, Charles Michel; participated in the opening ceremony, during which we heard dialogues between climate activist Julieta Martinez and Hillary Clinton. We watched activists from civil society and youth-led organisations, philanthropists and CEOs of private sector companies brainstorming in an intergenerational dialogue to initiate action and stop the rhetoric.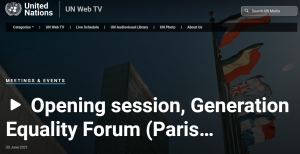 Mobilisation was top of the agenda. The forum announced the launch of a 5-year Global Acceleration Plan to Advance Generation Equality by 2026. Designed by six Action Coalitions and supported by a budget of $40 Billion, it boasts the highest budget for accelerating gender equality in the world.
Discover the six critical issues that underpin gender equality and the targets set in the Global Acceleration Plan: