Message from the President - June 2021
Our annual meeting, referred to as the Governors' Meeting, takes place before the end of the Soroptimist year in September, in person, at a place chosen by the sitting president.
Last year I had planned for us to meet in the beautiful city of Prague, and this year I would have loved to have hosted the event in my home city of Krakow. Alas, it was not meant to be and the meeting will be held online instead from 2nd to 4th July 2021.
Both of the annual meetings during my biennium have been online, which has never been the case in our history. Last year our HQ team beautifully managed to provide last-minute online solutions. This year, their preparations have been even more substantial, as our voting members will vote online on some very key decisions this July.
Decisions are at the heart of the Governors' Meeting, to ensure our organisation continues to move forward. During this year's GM, we shall elect new board members, take decisions on our regulations, as well as vote on a new constitution and bylaws. The decisions are taken by our Unions and Single Clubs Having Rights, and the representatives at the meeting are the Governors. In addition to taking decisions, sharing of information and updates of the past year are key topics.
Over the years the meeting transformed into offering side events such as workshops and learnings for our members. Eventually, it opened to all Soroptimists, so those who were interested could attend to witness decisions being made, take part in the workshops and build connections between members lasting a lifetime.
Once we can meet again without restrictions, I recommend taking the time to attend this great event, to embrace the Soroptimist spirit and to renew and make new friendships.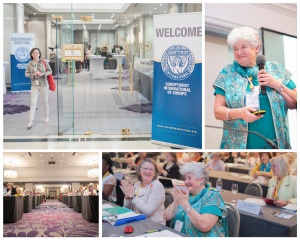 This year, as the meeting is an 'eGM', it gives a greater reach to all our members within the Federation and I am proud to announce that we quickly reached our capacity with over 250 members registering.
Following next month's eGM, which will focus on key decision making, I shall host the celebratory half of the GM. This will be in mid-September, comprising of an end of biennium celebration where the awards of Best Project and Photo Competition will be given, as well as the Centenary Award. There will also be an interesting and thought-provoking panel discussion, and other Soroptimist spirited and uplifting reminders and accomplishments from my biennium. I do hope you will join me then as well.
Anna Wszelaczyńska,
SIE President 2019-2021
Information on the biennium celebration will be shared with you in the coming weeks via our website and our social media channels.
Follow Soroptimist International of Europe for updates: