Violence against women and girls is one of the most pervasive human rights violations & a global epidemic. Every year from 25 November to 10 December, a global campaign rooted in the women's movement mobilizes people worldwide: the so-called "oranging" season, also known as the 16 Days of Activism Against Gender-Based Violence.
Last year, the 54 Clubs of the Soroptimist Union of Belgium were highly involved in the campaign. As part of a leading women's organisation, Soroptimist International of Belgium used their position wisely and planned several ways to publicise this important campaign in line with the United Nations Secretary General's call to "Orange the world", which uses the colour to symbolise a brighter future without violence.
Say "yes" to the UN's call to act and work to end violence against women and girls in Belgium;
Stimulate 54 Belgian clubs to work together and even work with other partners such as Zonta, local press and local authorities to have more impact on the civil society;
Increase the global visibility of the Soroptimist movement in Belgium.
This banner, used during the campaign, was created by artist and member of SI Club Land Van Waas Marlise Binder. You can even download or order it for yourself!
The outcome and impact of this national action have been very encouraging. Indeed the Soroptimists have managed to spread their message throughout the whole country: around 100,000 people saw their self-designed banners, received mass media coverage and even the town hall of Brussels was coloured in orange. Their influence also reached an iconic building (quite a male-dominated bastion), the Ghelamco Arena (a stadium in Ghent, Belgium that hosts football matches), that promoted their message visible to all the people and cars passing by the highway. Finally, they organized a symposium in Ghent—a cooperation between Soroptimist and Zonta—with very important keynote speakers.
WOMEN AND GIRLS REACHED : • 10,000-100,000
FUNDS RAISED BY UNION: • 3,500 €
PROJECT ACHIEVED BY: • Illuminating civil building • Hanging up banners • Distributing flyers • Organising press conferences
Belgian Soroptimists received a Best Practice Award in the Category of Violence Against Women last year for their wonderful work!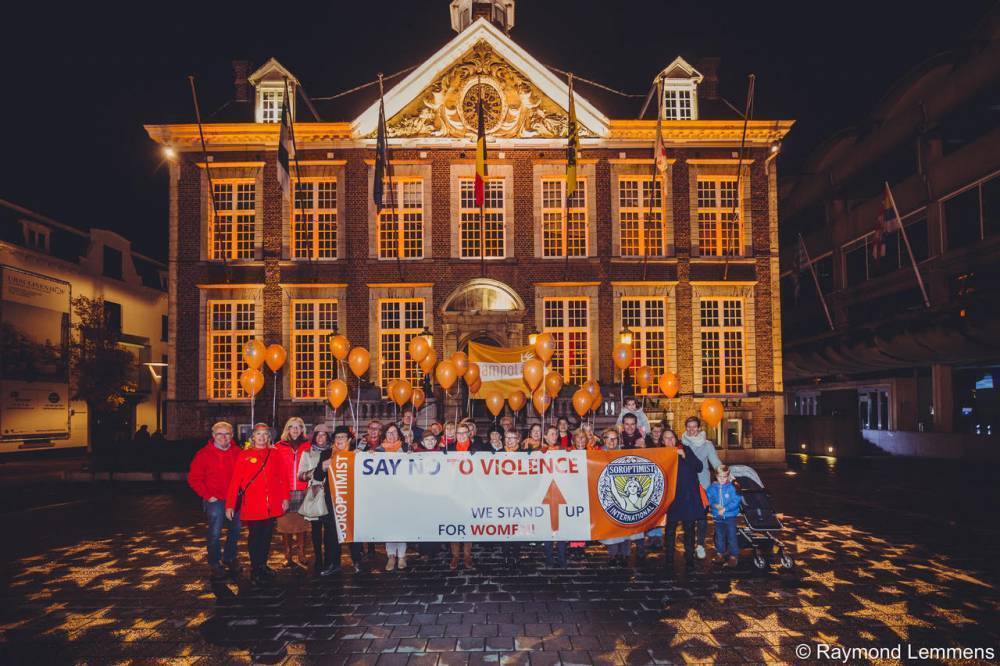 Soroptimists from the Union of Belgium in front of a civil building illuminated in orange to bring awareness to violence against women.