For Soroptimist International Europe, last Wednesday, March 11, was a special day for Advocacy.
In light of the current concerns regarding COVID-19, on March 2nd, the UN Secretary-General recommended an amendment of the CSW64 format, which led to the decision to cancel all presential events and to scale it down to a one-day procedural meeting for the adoption of the Political Declaration.
Unfortunately, with the cancellation of CSW64 more than 11.000 women delegates, including the delegates from SIE, were left with an unaccomplished mission.
With our consultative status at United Nation's ECOSOC, we would have been able to share documents, discuss positions, participate in negotiations, which would have influenced and shaped the future agenda of women's rights, especially on Beijing Declaration's 25 years.
Through the SIE and European Women's Lobby (EWL) partnership (SIE has an official representation with EWL), the  SIE Vice President, Rita Nogueira Ramos was invited to accompany EWL to their meeting with UN Secretary-General, Mr. António Guterres, at the UN Headquarters in NYC despite the cancellation of CSW64.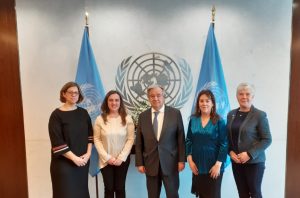 from left to right: Alexandra Silva, Ana Sofia Fernandes, António Gutteres, Mary Collins, Hafdís Karlsdóttir
It was a great honour that on March 11th, SIE's Secretary-General, Hafdís Karlsdóttir joined EWL's Vice-President, Ana Sofia Fernandes to meet and discuss important topics relating to both EWL and SIE with Mr. Guterres. It was also a key opportunity, as an invitation was hand-delivered, on behalf of  President Anna Wszelaczyńska and Vice-President Rita Nogueira Ramos, to do us the honour of being the patronage of our Centennial Celebration in Krakow, July 2021.  This invitation was extended to Mr Guterres as he is a fierce advocate for gender equality, and we hope to welcome such an honoured guest at our Centennial Congress in Krakow.
From left to right:

Alexandra Silva, Veslemøy Klingsheim, Eva Skårner, Maria Oikonomidou, Hafdís Karlsdóttir & Ana Sofia Fernandes