As stated in our constitution "Soroptimist International of Europe […] is a worldwide voluntary organisation of women in professions and business". Yet, when key dates come along in our calendar, such as Orange Days and International Women's Day, we are pointing to men in many ways.
When we speak out about Violence Against Women (one of our five Focus Areas), we often note that the vulnerable or unsafe situations we experience are caused by male behaviour.
We, Soroptimist women, have a responsibility to women all over, as many do not dare to intervene nor to speak up when witnessing or being subjected to violence.
Our SIE Strategy 2019-2025 is focused on Education and Gender Equality. We are all familiar with the slogan popping up these last years where 'Protect your daughter' is struck out and replaced by 'educate your son'.  Never has this been truer, as these past months we have witnessed scandals about sexual harassment in several of our countries, putting men in universities; the sports and entertainment industries; and business sector in the public spotlight for their sexist behaviour.
But not all men have this attitude, many sons are educated to respect women, many men see the benefits of having a female colleague and appreciate women as equals. Yet the sad thing is that nowadays they fear not doing the right thing. That their behaviour might somehow be subject to negative interpretation. That being in a room with a woman is a vulnerable situation for them. And this undoes the efforts that women have fought so hard for.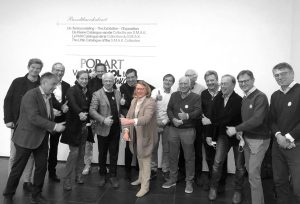 So, on Women's Day this 8th March, let's celebrate the cultural, political, and socioeconomic achievements of women. Rather than giving in to the commercialisation of International Women's Day by making men feel obliged to give us flowers and chocolates, let's commemorate it by showing the educated men that we appreciate them respecting our achievements, working together, and standing up with us.
Let us educate them to Stand Up for Women and for gender equality.
Yours sincerely,
Carolien DEMEY,
SIE President 2021-2023
---
Follow Soroptimist International of Europe on social media: