The state of Kuwait has a non-operational shelter that was established in 2017. Domestic violence and violence against women are phenomena taking place frequently and victims still do not have a safe place to turn to. Soroptimist Club of Kuwait in collaboration with Abolish153 and Eithar formed a coalition to welcome women in need following the consequences of the pandemic for a period of one year.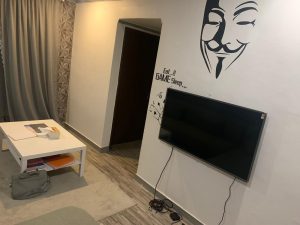 It was a pilot experience to examine the fact of operating a temporary shelter for women over the age of 21. With the rise of lockdown hours during the Covid-19 experience, violence against women cases have been increasing.
The Soroptimists in Kuwait have:
created a media campaign to raise awareness and educate the public about VAW during this phase,
worked with the local lawyers to protect the rights of survivors and service providers,
managed donation of services and products needed for the survivors,
provided a holistic rehabilitation program to enable and empower survivors of abuse,
reached out to entities like the local UN for assistance.
Furthermore, the Soroptimists undertook three main actions:
they did advocacy work to help the civil society to pass the Domestic Violence Law and the Law passed in September 2020!
they managed to lead a subproject to facilitate the donations and the logistics of goods and services.
they are negotiating with the government to be the civil society representatives of the EVAW (End Violence Against Women) project.
The Soroptimists succeeded to help 24 survivors. Six of these survivors are now independent. The Club also received media recognition on the national level (TV and Radio) and one of the governmental entities provided the Soroptimists with a fund.
This powerful testimony of a young woman benefiting from this project demonstrates how the commitment of the Soroptimists has changed, for the better, the lives of these women who for the most part had lost all hope of breaking the cycle of violence:
"Ever since the Soroptimists in Kuwait made it their mission to help me, I have felt nothing but grateful and appreciative towards them. Feeling helpless at one of the lowest points of my life, they always made sure to make me feel safe and, as a result, I regained hope. Dr. Amar (President of the Soroptimist Club of Kuwait) accepted me with open arms, without judgment, and have effortlessly managed to make me feel as part of a family. Everyday their kindness and generosity remind me of the goodness that still exists in people, and the lessons I learn from them allow me to grow and become a better person. They inspire me to work hard, in anticipation of someday being able to also be a safe space for someone else. I don't know where I would be without them today, and for that I am eternally thankful.".