Club of San Marino, San Marino
The project "A room for you" is a project which is very close to the Soroptimists of San Marino as they have been working for its realization between 2017 and 2019. The project consists in creating a space expressly dedicated and organized to welcome women who want to report acts of violence against themselves and/or their children. "A room for you" is, for the Republic of San Marino, an absolute novelty, one of the possible actions to combat violence, carried out in synergy between the club, public offices and institutions. The collaboration has made it possible to add this tool to the services offered by the network existing in the area for the needs to combat violence.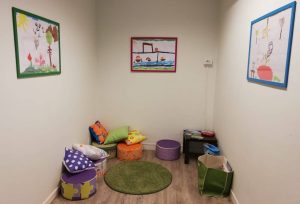 The club has chosen to undertake this project to support the victims of violence in difficult and traumatic situation at the moment of reporting. The project was born with the aim to create an environment as much as possible encouraging for women to have a less traumatic approach when they decide to denounce their persecutors very often in the context of emotional relationships. The dedicated "room" gives attention to the experience and its painful narration and in case there are minors, it guarantees psychological protection in conditions of privacy and security.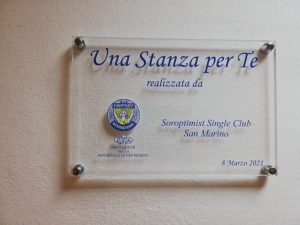 The proposal of the Club to create the "room" was supported by the Authority for Equal Opportunities and highly welcomed by the Gendarmerie Command, both engaged for years in the network for needs services of the territory to combat violence. More concretely, the Gendarmerie accepted the project proposal and the production company checked the conditions. On the other end, the Authority for Equal Opportunities has been consulted and the offices in charge for authorizations were involved; all those actors enabled the Soroptimists of San Marino to achieve the realization of the "room".
The inauguration of "A room for you" took place on Monday 8 March 2021, in the frame of International Women's Day; truly symbolic!