Next month we will launch the call for the SIE Scholarships for 2021-2022.
Next month we will launch the call for the SIE Scholarships for 2021-2022. In the meantime, we reached out to grantees, Sophie Rousseau and Emilia Apostu to learn more about how SIE scholarships contributed to their learning, success and future.
Testimonial from Sophie Rousseau, Belgium – Transformed by an MA in Conflict Transformation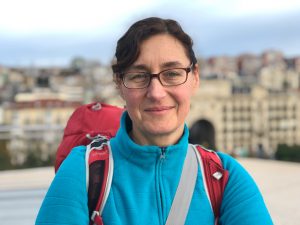 When I undertook a Master degree in International Conflict Transformation, it was a big jump into the unknown. Now, I am so grateful to all Soroptimists who supported me on this journey with a scholarship to complete the programme, but especially with their trust in my capacity to unfold to my full potential!
For two years at the UNESCO Chair for Peace in Austria, I studied how conflicts appear as visible episodes of a much deeper societal earthquake. Using Elicitive Conflict Mapping, Transrational Peace philosophy and intersectional feminist analytical tools, I uncovered conflict epicentres, delving into social, family, community, sexual and spiritual layers of interrelations between parties. In the mountains, I practiced negotiation and mediation in volatile war simulations with the Austrian Army and the Red Cross. Working group dynamics with my student colleagues from Pakistan, Uganda, Yemen, Israel, Palestine, Ukraine and Brazil taught me crucial collaborative teamwork. Developing self-awareness, pushing my boundaries and processing personal traumas, I started on a life long journey towards inner peace. Because after all, in mediating conflicts, my most important tool is myself as a human being, entering in empathic resonance with other human beings.
Nurturing deep respect for the humanity we all share, I ended this programme motivated to pursue true gender equality, where gender justice prevails as a building block to gender peace. For my thesis, I am researching types of intervention that best empower survivors of sexual and gender-based violence (SGBV). I hope to contribute to "survivor-centered'' approaches by justice systems, security forces and conflict workers. I believe that only when all gender voices are heard can we start along the many paths towards healing and living together as equal partners. My deepest gratitude to the Soroptimists for supporting that endeavour!
Testimonial from Emilia Apostu, Romania – MSc in Air Transport Management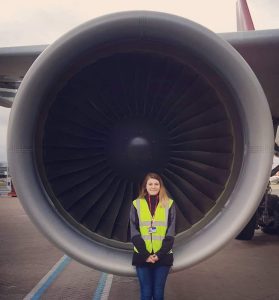 The SIE scholarship offered me much more than just the opportunity of studying at one of the most prestigious aviation universities in Europe, but it also instilled in me the confidence and courage to pursue my dream of developing a career in aviation safety, for which I am eternally grateful.
During my MSc in Air Transport Management at Cranfield University (the UK), I studied alongside the brightest and driven students I have ever met, from which I have learned equally as much as from the lecturers. It was an incredible experience to discover how various cultures understand and practice aviation, but these differences were also the hardest challenge we faced during our final assignment: the start-up of an airline within 3 weeks.
For my final thesis, I researched about the implementation of safety management systems within the UK airlines and it was a very gratifying work since I was able to contact many specialists within the field and drive meaningful research. My work was well regarded and awarded with a 1st and I am now proudly working towards publishing it within academic journals.
Only a few months within the MSc course, I managed to secure the job at Virgin Atlantic as a corporate safety analyst which kick-started my career. I feel that my career has now started to blossom into what I have always hoped for and this would have not been possible without SIE's help. This opportunity opened doors for me that I did not even know they exist, a million thanks SIE for trusting that my dreams are not too high to reach!
By SIE Scholarship team 2019-2021