The theme for International Women's Day (IWD) 2023 is DigitALL: Innovation and technology for gender equality which is aligned with the priority theme of the CSW-67, Innovation and technological change and education in the digital age for achieving gender equality and the empowerment of all women and girls.
IWD 2023 celebrates and recognizes the contributions of the women and girls committed to building gender-responsive innovations and advancing innovation and digital technology. It also provides an opportunity to highlight the role of all stakeholders in improving access to digital tools, as well as explore the impact of the digital gender gap on widening economic and social inequalities.
On this occasion, UN Women organized the United Nations' Observance of International Women's Day where it was featured statements by the Secretary-General and other high-level United Nations dignitaries, as well as a panel discussion with expert speakers offering reflections.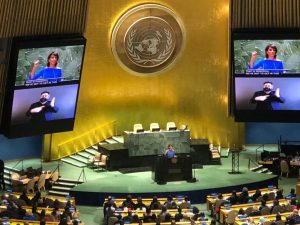 Let's share a few words from Earle Courtenay Rattray, Chef de Cabinet, Executive Office of the Secretary General: "Not only women have less access to technology than men, but also have less opportunities to shape the way technology impacts their lives. Nowhere is this more the case than in least developed countries […]. It is clear that we need special measures to advance equal representation and participation of women in all spheres and decision-making spaces. But bringing women to the table is just a 1st step. We need to overall the patriarchal structures that perpetuates disparities between women and men and between boys and girls."
To see the whole of this exceptional event, please click HERE.