Social media is an integral part of all our daily lives. While it brings many advantages, the negative side of our 'connected lives' has taken on an unprecedented scale in the form of online harassment.
Isolation, sleep disorders, loss of self-confidence and a negative body image are just some of the effects of cyber abuse. It is not surprising, when you consider the severity of the threats which mainly target female victims. Cyberharassment, revenge porn, threats of rape, sexual assault or murder are some of the worst forms of online violence aimed at women, according to the Council of Europe.
Our online world acts as a mirror to real-life injustices and inequalities.
As a result, women are the main target of cyber abuse, something which has worsened due to lockdowns and increased number of online users during the COVID-19 pandemic. This form of violence, has harmful psychological and physical consequences for the victims, often leading to the onset or progression of depression.
In response to a local growing demand to raise awareness of this issue, the Soroptimists of Adana, Turkey, are extremely active! They implemented a project focused on 'Abuse on Digital Platforms' and held their first virtual event in July 2021. The outcome of this event reinforced the fact that women and children are at a higher risk of abuse on digital platforms and that they urgently need to be further sensitised about this subject.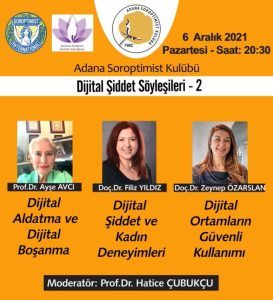 The Soroptimists of Adana therefore initiated a second virtual event based around 'Conversations about Digital Abuse -2' to raise awareness of technical and legal aspects regarding prevention of digital abuse. In order to reach the most women and teenagers possible, this was broadcast live via Zoom and YouTube and was open to both Soroptimist members and non-members.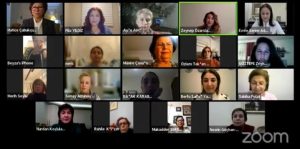 Club members actively advertised the event on several channels and it paid off – a total of 170 participants attended the meeting virtually!  Participants were given guidance on digital abuse, examples of what constitutes abuse, and tips on how to avoid online abuse from experts in the field.
A member of SI Adana Professor Dr Hatice Çubukcu moderated the meeting in which three key speakers from Çukurova University (Adana) and Çağ University (Mersin) participated.
Guest speaker, psychiatric expert Professor Dr Ayşe Avcı explained how digital abuse works when partners go through infidelity and/or divorce.
Associate Professor Dr Filiz Yıldız shared experiences from women who were digitally abused, types and ways of abuse, and on economic abuse, based on field studies she had carried out.
Associate Professor Dr Zeynep Özarslan explained how to avoid online digital abuse in detail, highlighting the technical and legal aspects. She also shared the link to 'Protection from Digital Abuse' – a booklet she co-wrote, that anyone may access free of charge.
The project budget was funded by voluntary donations, which made the event much more meaningful!
The Soroptimists received many congratulatory messages from the attendees! The presentations from the speakers were pragmatic and educational and the high number of participants shows that the work of the Soroptimists of Adana to develop public awareness has borne fruit.
---
We encourage you to continue to raise awareness of these types of modern, current issues through webinars, live events, and social media posts. If you are interested in running a similar project with your Club or Union, do reach out to the Soroptimists of Adana to hear about their experience and for their guidance and support.
Follow us on social media to hear about more Soroptimist projects, and like, comment and share to help spread the word!