We are offering EUR 25,000 in scholarships to female refugees.  This is part of Soroptimist International of Europe's effort to support women and girls in war zones, by 'Opening Doors to a Bright Future' – the Soroptimist International (SI) President's Appeal for 2021-2023.
Our Soroptimist Development Goal 5 (SDG5) 'we stand up for education' means doing so whatever the circumstances, which is why we wanted to develop a special scholarship for refugee women and girls. This was designed to support them in successfully building their lives in a new country. The scholarship serves to help refugee women to integrate in their country of reception and empower them to become financially independent.
This grant is intended for short-term vocational courses, education, or training to get the required skills and/or to continue education in a chosen profession.
By offering this scholarship, we stand by three simple words which mean so much to the future of women and girls: 'Education-Empower-Enable'.
If you know of any refugee women or girls who would like to develop their vocational skills or carry out an educational programme, please support them by sharing this opportunity with them and helping them to put forward their application.
What you need to know
Who can apply? The scholarship is open to all refugee women, with the status of refugee in their present country of reception.
Who carries out the selection process? The grantees of scholarships are selected by the Scholarship Committee and approved by the Board.
When is the deadline? The deadline to submit applications is 1st March 2023.
When will the decision be made? The selection process should be completed by 1st April 2023.
How to apply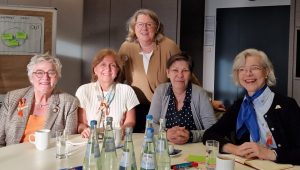 SDG 5 – Anne-Marie Vreman, Nilgün Pakkan, Alexandra Koutsoukelis, Christina Duwe