In these turbulent times, our clubs and unions have stepped up to support Ukrainian women and children. Our clubs, both in Ukraine and in bordering countries have taken action, organising essential projects to provide urgently needed care and provisions.
The clubs and members in these regions need our help to raise funds. Apart from Poland and Romania, most countries closest to Ukraine where Soroptimist is active are made up of Single Clubs, rather than Unions. They have a more limited possibility of fundraising and right now even less so, as their members are fully focused on providing hands-on support on the ground.
Support Soroptimist projects through Project Matching
By accessing Soroptimist's Project Matching tool you can see exactly which projects are being implemented and support them directly.
Our Project matching website is open to everyone. It gives visitors an overview of all projects, past and present (those related to Ukraine are identified by the image you see below and include the words 'War zone initiative').  We have made providing support an easy and transparent process by sharing thorough information and follow up on each project with you.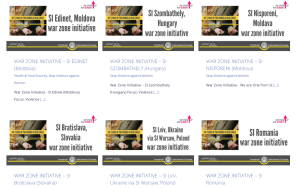 You can view individual project details, including the fundraising target and how much has been raised so far. Crucially, you can support individual projects directly and immediately, by clicking 'We want to support this Project'.  The bank details displayed belong directly to the club/union of that specific project.
Progress is carefully monitored on a weekly basis by the Programme team. We cross-check the information received and update the 'total raised' bar of each project accordingly, so that you may follow the projects and see their progress at a glance. Upon completion, the project owners submit an overall project statement, which we carefully review and use to update the project information.
We would like to thank you for all the support you have already given to the war zone initiative projects – currently, 4 projects are online and 7 have already received the requested funds. More than 230,000 EUR have been raised! We are happy to see that this tool is fulfilling its purpose of getting funding and other forms of support directly to our clubs' projects.
We ask that you please share our Project Matching page with friends, family and your wider network. Both our members, as individuals, Clubs or Unions, and also donors outside our organisation can directly support Soroptimist projects, which allows us to get much needed financial aid to our clubs fast.
Jitka Kratochvílová
APD on behalf of the Programme and Advocacy Team
---
You, your club and your union can support our war zone projects today by clicking below: