Today, November 25th, is the International Day for the Elimination of Violence against Women. It marks the beginning of the 16 Days of Activism against Gender-Based Violence Campaign, an organising strategy by individuals and organisations around the world to call for the prevention and elimination of violence against women and girls which will conclude on December 10th, Human Rights Day.
This campaign, also known as "Orange the World" campaign uses orange as the unifying colour throughout all its activities. It is a symbol of a brighter future, free from violence against women and girls.
During these 16 days, civil society is encouraged to "Orange the World" through activities aimed at raising awareness of, or eliminating violence against women. All Soroptimist Clubs across the Federation are encouraged to launch and participate in such activities.
Here are some creative ways your Club can support the campaign!
How will YOU Orange the World?
Orange Clutches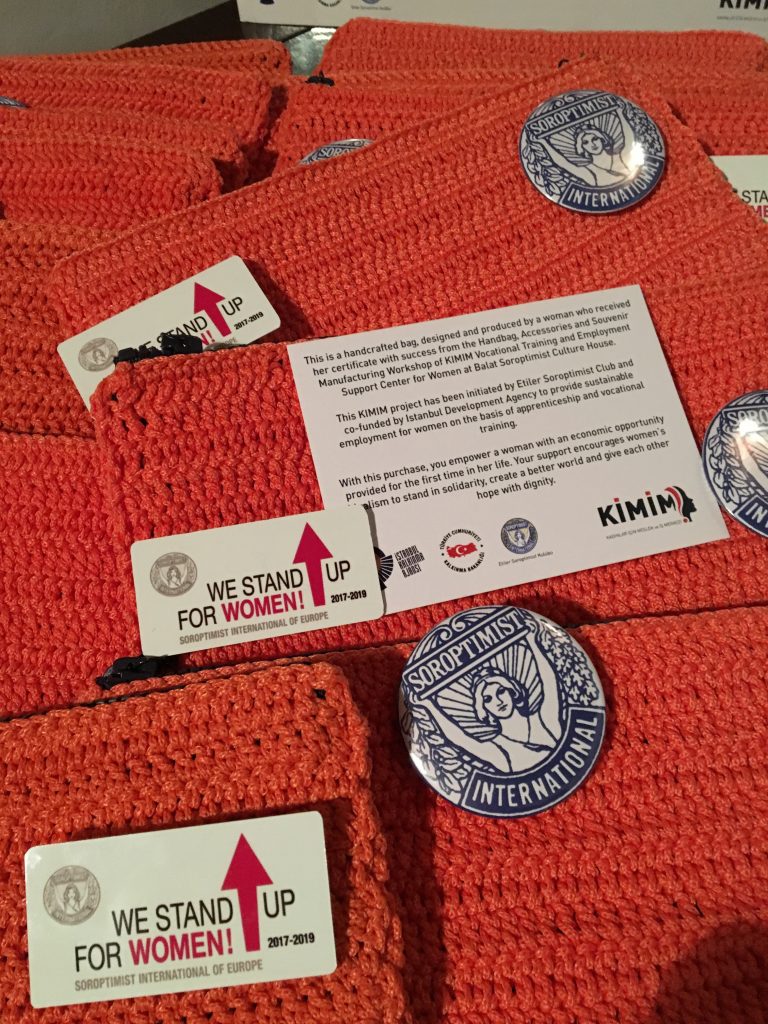 SI Club Etiler, Turkey
In March 2017, the Club started a crochet-bag course within our award-winning KIMIM project. For Orange The World activities, the Club has decided to produce orange mini-clutches, which may be decorated with Soroptimist and We Stand Up for Women pins and prepare mini cards explaining meaning of the 16 Days of activism.
Orange Cocktails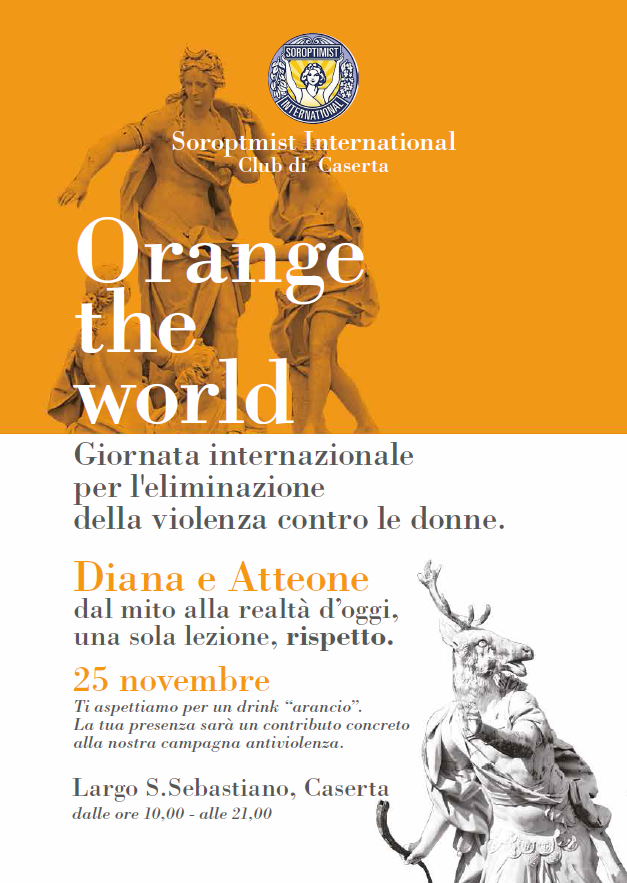 SI Caserta, Italy 
In honour of the International Day of the Elimination of Violence Against Women, this club is serving up some orange drinks at their event!
Orange Dinner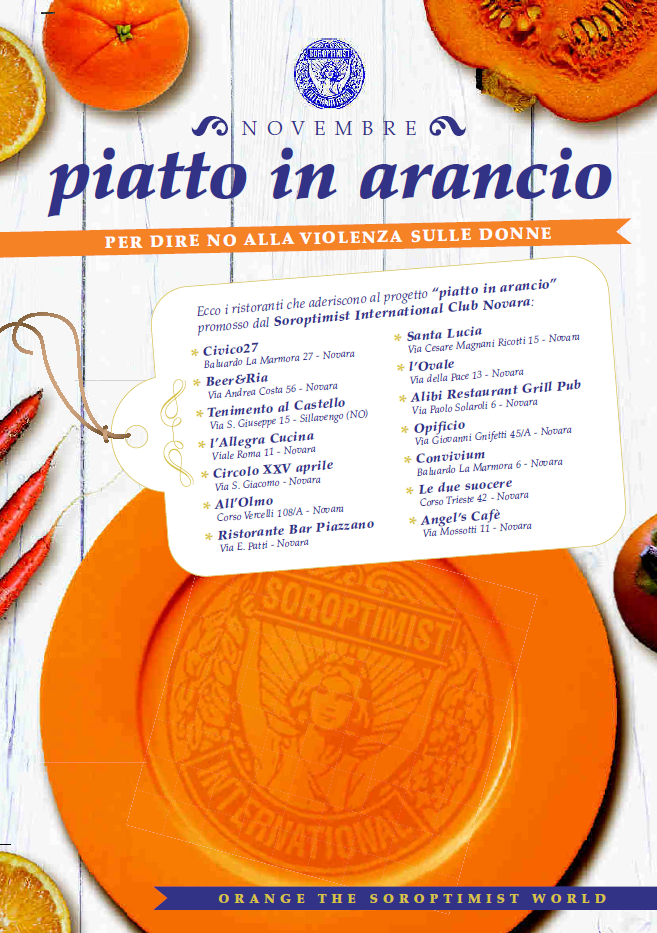 SI Novara, Italy
The Club is in collaboration with some Novara restaurants and bars to promote the "Orange Plate." On the menu for the whole month of November, diners will find a plate made with the orange delicacies typical of autumn. For each Orange Plate purchased, a contribution is made for the purchase of the Anti-Violence Kit to be donated to the Arms of Carabinieri of Novara.
Orange Scarves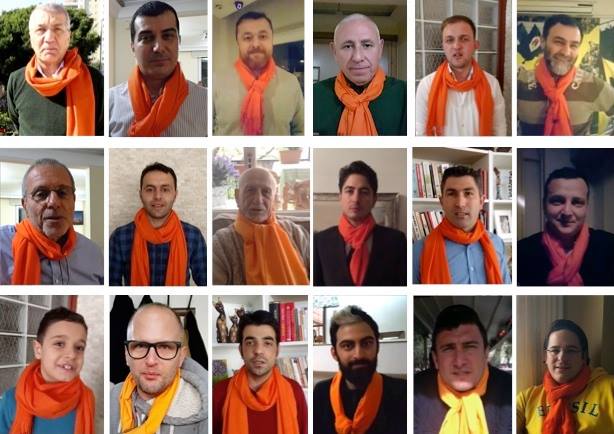 SI Marmara, Turkey and many other Clubs
The Maramara Club won the Best Practice Award 2017 in the Violence Against Women Category for their project "Orange Heroes" in support of the HeForShe Campaign. The project involved men saying no to violence on camera, while wearing orange scarves. Wearing an orange scarf is a symbol that represents the wearer's opposition to VAW, and many Soroptimists support this tradition each year.
Posters and artwork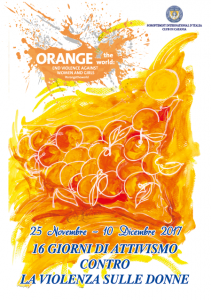 SI Catania, Italy
Attractive and well designed dispersed publicly create a ubiquitous presence for the immediate need to eliminate Violence Against Women.
Orange your Social Media
SIE President Renata Trottmann Probst will be oranging her Facebook profile picture and so can you! Many beautiful designs are available. If you like the one above, simply find and click on Renata's profile picture on Facebook and select "Use Frame" on the bottom right corner. If you prefer another design, click here to add an orange banner to your photo and show your support to your network!
Additionally, support the campaign by using the hashtags: #16Days #orangetheworld and #WeStandUpForWomen when posting about topics related to eliminating violence against women.
Orange Pins
SI Isola d'Elba, Italy
During a meeting on gender violence that the Club has organised, orange pins will be handed out. Anyone can wear them with pride to show their support for the "Orange the world" campaign.