When I took office in October 2020 as Union President of France, I announced that we would hold a French Leadership Academy in the summer of 2022.
Our objective was to bring together young women of different nationalities and enable them to live a unique experience, to discover their potential as leaders, and learn how to develop their leadership skills.
We mounted a multidisciplinary team to prepare the event, composed of:
Coaching professionals, who were invaluable in establishing the programme and choosing speakers;
Financial specialists to draw up the budget and apply for grants;
Logistical managers arranging the necessary transportation, accommodation and catering;
A secretarial team to manage relations with the clubs and participants;
A communication team to design and disseminate the messages.
The young women, aged 22-28 years old, selected to attend the academy had all experienced very intense moments that will mark them for life. Through theatre sessions, role-play and concrete exercises, they learned to express their emotions, to breathe, to convey a message and to captivate their audience.
"I learned to be assertive: the French LA workshops made me realise that daring to give my opinion, and to stand firm on my positions, was as beneficial for me as it was for the people I meet on a daily basis"
 – Leïla, Leadership Academy participant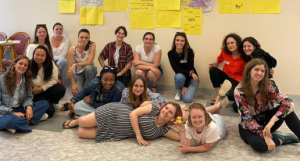 This was an extraordinary opportunity for the young adults and an extraordinary adventure for us. I was particularly happy to see that those SIE leaders who had initiated and supported this initiative were present to see the results of their actions: enthusiastic young women who would recommend the experience to their friends.
We worked with 15 young adults during the weeklong leadership academy held in July 2022.  Upon reflection, we realised that our registration criteria were rather too demanding, which forced us to refuse some very good applications. Apart from this one drawback, the French Leadership Academy was a great success.
"The meetings were extremely enriching: I came away incredibly inspired by all these exchanges with young women with varied profiles. And above all, I came away with 14 new friends."
– Leïla, Leadership Academy participant
---
Visit SI France's website to discover more about the French Leadership Academy and see the young women in action at the academy: https://www.soroptimist.fr/actualites/?cat=26