Dear Soroptimists,
Effective communication plays a crucial role for our organisation, not only in improving Soroptimist's image but also in recruiting new members – our overall goal in this Biennium.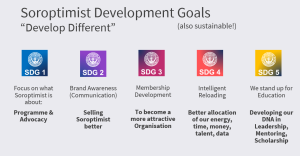 The SDG 2 group's mission is to showcase what Soroptimist is all about and to increase its visibility as one, amazing organisation. A task that inevitably requires trustful collaboration with Unions, Single Clubs, and every member.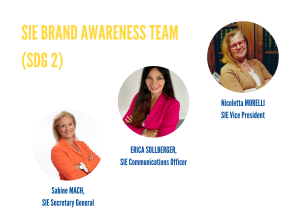 What we are doing and how you can influence and contribute
We can create awareness, inform, and gain attractiveness through planned unified communication. The Federation's communication team is developing tools and official campaigns in different languages to be supported and shared by our Unions and Single Clubs.
Please help us spread unified communication to create awareness, inform, and gain attractiveness.
Amplify the Soroptimist voice. The Federation's communication team is developing tools and materials in multiple languages for official campaigns. You will have access to all these new materials.
The first new campaign will be "International Women's Day 2022" on Tuesday, 8th March 2022! In the spirit of communicating better and more, we are working on a fantastic new video. It will be available with subtitles in English, French, German, Italian and Dutch. Follow Soroptimist International of Europe and your local Union on social media not to miss out.
Please note that we are also already working on redesigning our 'Orange the World' campaign 2022. We will share further information in due time.
We want to foster a culture of inclusion and solidarity
To grow, we recognise that we need to listen carefully to what you have to say. We want to hear your ideas. If there is something you have been thinking about for a while that could contribute to better communication and attract future members, or something this article has inspired you to think about, please do not wait. Send the SDG 2 team a message by emailing siehq@soroptimisteurope.org, and including 'SDG 2' in the email subject.
Let's strengthens ourselves as individuals and as an organisation. Let's do so by actively increasing internal communication at all levels of Soroptimist International of Europe, from members to Clubs, to Unions, and our Federation.
Together we are stronger!
SIE Brand Awareness (SDG2) Team 2021-2023
---
Four quick steps you can take today to support visibility growth and the next generation of Soroptimists:
1. Follow us on social media
Follow Soroptimist International of Europe on social media:
2. Like/comment/share our posts
3. Tell us your ideas by emailing us at siehq@soroptimisteurope.org and including 'SDG2' in the email subject
4. Show you are a member of Soroptimist on LinkedIn:
-Open your LinkedIn profile
-Click 'add section' (under your name and contact information)
-Select 'Accomplishments'
-Select 'Organizations'
-Complete the information and save
-This will now show on your profile in your Accomplishments section