As part of the 16 Days of Activism at the end of 2017, the SIE website featured posters using the elegant and fragile calla lily in different renditions to illustrate various violations of women's rights. The man behind this extraordinary artwork is Mustafa Karakas (33), a designer and photographer with many talents and a long list of awards to prove it. But what sets him apart from many other gifted artists is his social conscience. His poster campaign on women's rights in today's society and in different cultures is a stunning example of his ability to spotlight delicate issues with sensitivity.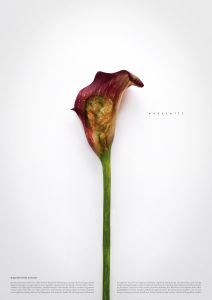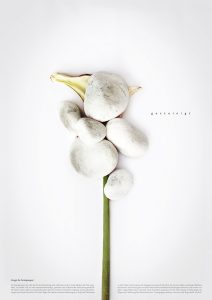 "Entstellt"                                                "Isoliert"                                                "Gesteinigt"
Following his training as a technical design assistant, Mustafa Karakas began studying mechanical engineering, but then changed to communication design at the University of Applied Sciences and Arts in Dortmund, Germany. He produced the calla series for his Bachelor thesis in 2013. Professor Dieter Ziegenfeuter of FH Dortmund supported Mustafa's idea to showcase critical human rights issues.
The resulting series received critical acclaim and numerous awards, including the prestigious Red Dot Design Award – Best of the Best in 2013. In an interview at the time, Mustafa Karakas said, 'The flower is a metaphor showing that women are not only beauty in person, but also precious and sensitive and that they should be treated accordingly.' The calla series has been exhibited throughout Germany and went on tour to various Red Dot Museums.
SI Germany presented its Soroptimist Prize to Mustafa Karakas on International Women's Day, 8 March in 2015 in recognition of his symbolic documentation of eight forms of violence against women. The German Union also printed the series on cards.
Today, Mustafa Karakas works as Art Director at a leading international ad agency in Frankfurt am Main. For more details of his designs, go to http://mustafakarakas.de/eng/.
After being interviewed by SIE Communications Officer Christine Cromwell-Ahrens, Mustafa Karakas met SIE President Renata Trottmann Probst in Frankfurt.