No country is immune to the Covid-19 epidemic and to restrictive measures. And no country is immune to the explosion of acts of violence against women and children. As a consequence, the Soroptimists in Ruse have been reaching out to local communities to raise awareness, provide information on practical ways to prevent or solve violence issues and establish networks for active help.
Members opted to combine efforts with other stakeholders in order to present more comprehensive information and reach out to a variety of social groups involved in or affected by the issues of violence.
All the activities were organised cooperatively with Bulgarian Soroptimists clubs of Sofia Vitosha-Ilina, Sofia II Boyana, Burgas, Sofia I, Varna and two external partners: Zonta and Dinamika Centre Association. Here is a non-exhaustive list of actions:
Preliminary activities:
special orange face masks with embroidered 'Stop Violence' message;
information leaflets with practical tips for victims and witnesses of violence and contact details (telephone numbers, e-mails, national hotline number) were distributed;
photo session with actors from Student Theatre Society recreating violence scenes and emotional damage on victims as part of an awareness-raising initiative;
Press conference, with the active involvement of Encho Enchev – Vice Mayor of Ruse, to present the goals of the 16 Days of Activism Campaign and the schedule of activities planned;
Lighting in orange two of the emblematic buildings in Ruse – the Theatre and the Municipality in the presence of the Vice Mayor of Ruse;
Exhibition with original photographs, recreating violence scenes and emotional damage on victims, exhibited in the Theatre lobby – officially opened by the Vice Mayor of Ruse, Mr. Encho Enchev;
Announcing the results from the competition 'The Freedom to Be Yourself' – an online event with a special access where the awarded works on the thematic of VAWS are showcased (essays, photos, computer graphics);
Distribution of leaflets and masks locally and nationally made by the organisers, the participating SI clubs and supporters.
With the broad range of activities and the extensive media coverage, the advocacy aspect of the project brought a great satisfaction to all club members.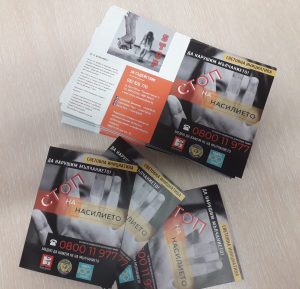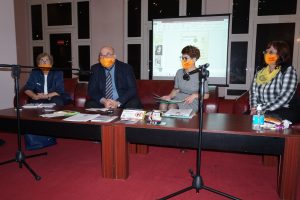 And what could be more telling than a concrete example? Right after the press conference, a woman (Public Relations Officer of an NGO organisation in Ruse) contacted the Soroptimists in Ruse to get assistance for a friend of her victim of domestic violence. The woman was really grateful for the information the Soroptimists provided her and took the victim to the shelter for women that is a partner of SI Ruse.  This is really a straightforward effect of the project!
Watch a video produced by SI Ruse HERE!