The UN International Day for the Elimination of Violence against Women on 25 November...
marks the beginning of the annual 16 Days of Activism campaign to raise awareness of gender-based violence. Over the course of the subsequent 16 days leading up to 10 December, International Human Rights Day, the United Nations, NGOs and women the world over will be drawing attention to this violation of human rights by taking up UN Secretary General Ban Ki Moon's call to 'Orange the world'.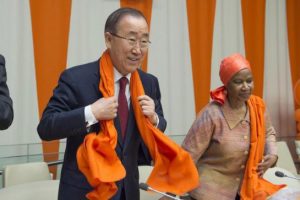 With one in three women experiencing physical or sexual harm worldwide, gender-based violence continues to be a global pandemic. For its 16 Days of Activism Soroptimist International of Europe will use the colour orange to signalise our outrage at violence directed towards women and girls and our hope for a better future. Among other things, we will"orange" our website and post a unique SIE calendar with pertinent messages, facts and figures. So, please check our SIE website regularly to keep informed of all the news and initiatives.
Of course, the more "orange" traffic we create, the greater the impact, and therefore we invite our Unions, Clubs and individual members to join the campaign. You may choose to post orange messages on Facebook or dress up your Union and Club websites in orange. To reach a wider audience, we suggest you ask your local communities to orange streets, schools or landmarks. Let your imagination inspire you! For example, our own SI Kuwait has preliminary approval to light up the Ministry of Information in orange and illuminate the SI logo!
Indeed, Soroptimists will be taking this opportunity to remind the world that violence against women and girls is a consequence of inequality and discrimination. By mobilising women from all backgrounds and cultures and by promoting greater awareness we can and must stop violence. And remember: the 16 days culminate with the celebration of what we refer to as Soroptimist Day on 10 December!
By actively participating in the orange campaign, we can also demonstrate our pride in being part of this amazing organisation!
SIE President 2015-2017
Maria Elisabetta de Franciscis