Tell us about yourself
I come from Germany and live in a city called Essen, which is based in the western part of the country. My career has revolved around roles in management and consultancy related to my profound knowledge of marketing, management (holding a degree in business administration), and STEM. For a significant portion of my professional life I have occupied the role of Managing Director in an international context with intercultural teams. My approach and experience are centred around finding common ground, identifying people's strengths, and actively listening to their concerns. Keeping up with new developments, research, and strategic planning is second nature to me. Outside of my professional life, I enjoy going to the opera, keeping fit with Nordic Walking, cooking, and meeting friends.
What does Soroptimist mean to you?
I am fascinated by the incredible variety of skills and enthusiasm of Soroptimist members around the world. It is inspiring to consider the fantastic and exciting opportunities that this diversity offers in our joint effort to achieve gender equality worldwide! From the moment I became a Soroptimist back in 2012, I was drawn to the idea of being part of an international network. Facilitating connections among Soroptimists and forming teams on local, regional, and national levels has always been a priority for me.  I regard the visions of our founders as a strong legacy that continues to inspire our mission!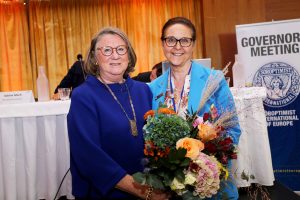 What is your top priority in your biennium 2026-2027 as SIE President?
The world is changing at a tremendous pace – sadly often to the disadvantage of women and girls. Consequently, the work of organisations like Soroptimist International has become increasingly important. Through our approach of 'awareness, advocacy and action' we are well equipped to face any challenges that may arise. My primary objective is to harness the strengths within our network of professional women and foster collaboration among members, the SIE board, and Union officers. Together we can instigate the necessary changes in society.
There is no change without awareness. It is vital that we are aware of the challenges and the solutions we face. This awareness is what makes us strong advocates for women and girls worldwide so that they can truly achieve their individual and collective potential.
---
Get to know all the members of our newly elected Board 2024-2025, who will assume their positions on 1 January 2024