To stand up for women, we must be heard by as many people as possible. As an international network, we have access to information gathered from our Clubs on the ground. That means that we have a unique and powerful position and perspective on the issues women are facing and the best action to take – one that highly esteemed organisations want to hear.  As a result, we are often given the opportunity to get our our voices, and those of the women we stand up for, heard.
As one of three SIE Representatives, I (Gertrud Åström) represent our organisation at the European Women's Lobby (EWL). The European Women's Lobby was created 30 years ago 'in response to a growing awareness of the need to defend women's interests at European level'.  The lobby is the largest network of women's associations in Europe (over 2,000), of which SIE is an important member. EWL is a voice where SIE can reach thousands of women and call for action and solidarity.
As SIE Representative to the EWL, I work within the women's movement, cooperating with other organisations to improve the lives of women. Most recently my activities have centred on the situation in Ukraine. The SIE statements on Ukraine were well received and published at an early stage on the EWL website and on the Members Updates. Our messages were widely spread and even quoted by women's organisations and official institutions, such as the Swedish Gender Equality Agency. Our Women in warzones initiatives have also received attention and support from international organisations, thanks to our Clubs' grass-root involvement.
| | | |
| --- | --- | --- |
| | | |
The SIE structure, with Clubs carrying out projects on the ground, gives SIE access to real data and sentiment. We share this with international bodies like the European Women's Lobby, the Organization for Security and Co-operation in Europe (OSCE) and the Council of Europe, where Dora Vrdlovec, and I represent the SIE. In some cases, the concrete information we share is used on a policy level, which is the case at EWL currently. Points I have raised will feed into the EWL ongoing work on the EU proposal for a directive on violence against women.
Information sharing is mutual. By participating in these important organisations, we gather information and inspiration and communicate what we learn back to SIE.
We cooperate and discuss ways of working within SDG1 – Advocacy and Programme. For instance, in February, SIE Programme Director Sandra Gonzalez Sköld was invited to my club, Stockholm City, together with First Deputy Speaker of the Swedish Parliament, Åsa Lindestam. They joined club members to discuss topics such as women's empowerment, violence against women, and women in warzones.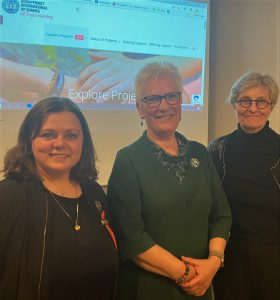 From left to right: Sandra Gonzalez Sköld (SIE Programme Director), Åsa Lindestam (First Deputy Speaker of the Swedish Parliament), Gertrud Åström (SIE Representative to EWL)
Our members' actions, in support of our motto 'We stand up for women', have given SIE a powerful voice heard on an international scale.
Gertrud Åström for SDG1
SIE Representative to the European Women's Lobby (EWL)
---
Follow us on social media to hear the latest updates on Soroptimist activities and actions, and like, comment and share to help spread the word!