Club of Friesland-Zuidwesthoek, (in collaboration with SI Friesland-Noord, SI Leeuwarden Noorderlicht and SI Friesland-Zuid), the Netherlands, Suriname & Curaçao
According to the results of a research by the EU's Fundamental Rights Agency, the percentage of women who have been victims of sexual, physical or psychological violence in the Netherlands is 45 percent. On average, 24 reports of rape are made in the Netherlands each week, while an estimated 80 percent are never reported[1].
The Soroptimists of SI Friesland-Zuidwesthoek, in collaboration with SI Friesland-Noord, SI Leeuwarden Noorderlicht and SI Friesland-Zuid decided to find a concrete way to help, raise awareness and make prevention on all forms of violence against women.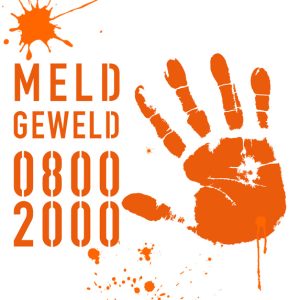 They designed a template on which the graffiti message "Meld Geweld 0800-2000" ("Report Violence 0800-2000") is to be applied on surfaces in orange chalk during the 16 days campaign. The template was shared with all Dutch Soroptimist clubs and Zonta clubs. Soroptimists all over the Netherlands applied the graffiti message to sidewalks and bicycle paths near GPs, pharmacists, health centres, shopping centres, stations, bus stops, cycling and walking paths, etc. Any place where many people pass. Also, images of this action were spread widely over multiple social media channels.
The telephone number in the message is a number of the organization Veilig Thuis (Safe at Home), a well-known Dutch organisation that helps people in unsafe situations such as domestic violence, sexual harassment, and exploitation.
The message says "Report Violence" because the idea is not only to encourage victims to phone this number, but also any other person who has knowledge of situations of violence.
Two WhatsApp groups were used, one to share photos and videos to use on social media, the other to exchange ideas and motivate each other. As a result, an increased number of incidents of violence against women were reported to Veilig Thuis thanks to the Soroptimists who successfully campaigned in making the helpline widely known.
The project received a large media coverage at local and national levels, as well as on social media.