Thanks to the special invitation of Swiss Union President, Annelies Debrunner, Renata Trottmann Probst, SIE Immediate Past President, attended a unique event on Monday, August 10, in Bern, Switzerland with over 500 in attendance. The event took place in compliance with the safety measures required by the COVID-19's health situation.
For the first time ever, all three female Ministers of Switzerland (three out of seven ministers), representing different politic parties, participated in a public forum. Last night's event was organised and hosted by Soroptimist International of Switzerland, Business & Professional Women Switzerland, as well as other women's organizations. In a relaxed atmosphere, the Ministers took a direct approach in covering the voting topics regarding the upcoming federal vote this September, and importance around women voting.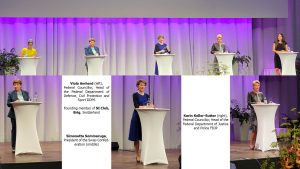 The Swiss Union of Soroptimist International is particularly proud that one of the three ministers:  Viola Amherd, Minister of Defence, is a Soroptimist!
Like in all democracies around the world, it is important that all votes be expressed, this is one of the main reasons why SI Switzerland along with other women's organisations came together to organise this event. It was only in 1971 when women were given the right to vote in Switzerland, and they still have a lower percentage in voting than men today.  Through these kinds of initiatives, Soroptimists are standing up for women by bringing awareness around the importance of voting and encouraging Swiss women to vote this September.