We all know the benefit of getting a good start in life.
The Plovdiv social and educational 'Start Young' competition was created to do exactly that.
Its goal is to support young entrepreneurs through education, promotion, and inspiration. The format is socially oriented and entirely free for the participants. The best projects go through to the finals and receive prizes (worth over 15'000 BGN equivalent to €7'670), as well as support to realise their ideas.
The initiative provides structured educational and practical information to improve young entrepreneurs' skills. It helps them to develop their ability to react and adapt quickly to the changing economic climate. In this way, entrepreneurs are helped to focus on their activities and to prosper, while taking action to achieve their goals and being well prepared for future challenges.
"Our mission is to support the upgrading of knowledge in all spheres of life, to promote social entrepreneurship, international understanding, goodwill and peace."
Ani Chakarova, President of SI Bulgaria
Club member Desislava Yordanova (one of LA Bulgaria 2021) chose to mentor Svetlana Chepilska. Svetlana's project is to digitalise the ancient and cultural sites in Plovdiv, named the European Capital of Culture for 2019. It aims to benefit people with impaired mobility and those who cannot travel because of COVID-19 restrictions. During the project, Desislava worked with Svetlana to produce a strong presentation to enter the final competition.
Desislava Yordanova, member of SI club Ancient Plovdiv
The first Start Young entrepreneurial competition was held online (due to COVID restrictions) on 4-6 February 2022 in Plovdiv, Bulgaria. SI Club Ancient Plovdiv was represented by its President Hristina Dailyanova, as a member of the jury, and club member Desislava Yordanova, as a mentor.
Desislava and Svetlana's hard work paid off with Svetlana being awarded second place among 12 participants. She also won the 'Grand Award of the Audience', and a special prize from a jury member from Switzerland.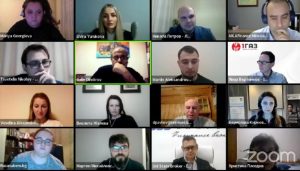 The project's success means that it will be rolled out across four other Bulgarian cities, with Soroptimist Bulgaria acting as a general partner. In each of the cities where Soroptimist Bulgaria has clubs, their representatives will be members of the jury and get involved as mentors, who will guide and counsel the participants on how best to realise their projects.
"We are glad to be part of the initiative 'Start Young' and we will put all our efforts and experience into aiding the participants in developing their entrepreneurial and leadership skills. "
Ani Chakarova, President of SI Bulgaria
---
Which is your club or union's proudest project? Tell us about it and we'll include it in the LINK and on our social media channels so that it can inspire and help other Soroptimists.
Send your projects or activities to Virginie: siehq@soroptimisteurope.org