Until now, our Scholarships, Leadership Academies, and Mentoring programmes have operated independently. This year, all that is changing!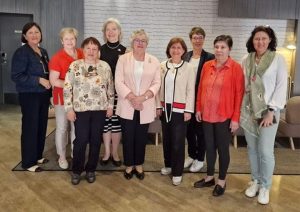 Scholarships and Mentoring team (left to right): Maria Luisa Frosio (SI Italy), Anna Rosenqvist (SI Sweden), Elena Savu (SI Romania), Christina Duwe (SI Norway), Anne-Marie Vreman (SI Netherlands, Suriname & Curaçao, Nilgün Pakkan (SI Turkey), Saija Kuusisto-Lancaster (SI Finland), Alexandra Koutsoukeli (SI Greece), Simone Polfer (SI Luxembourg)
Scholarships
For many years, Soroptimist International of Europe (SIE) has granted scholarships to educate, empower, and enable women to achieve their goals.
Leadership Academies
More recently, we have organised SIE Leadership Academies, aimed at younger women, to help them gain leadership qualities and abilities to thrive in their personal and professional lives.
Mentoring
Mentoring programmes have been established independently more recently too. They provide assistance, counselling and guidance to the development of the mentees in terms of fostering their self-awareness and confidence in achieving their full potential.
These three entities are each valuable for promoting the status of women, but they have, until now, not been directly connected. As part of the Soroptimist Development Goal 5 (SDG 5), the SIE Mentoring Team and SIE Scholarships Committee have developed a scheme that will bring them together.
This means that all SIE Scholarship grantees and SIE Leadership Academy participants will be offered Mentoring automatically. They will work with a more experienced SIE member, who is matched as closely as possible to their profile, and be given the chance to establish a trusted relationship based on personal values, professional experience, and emotional balance, to support them in achieving their goals.
This will contribute to improving the level of formal education, as well as give the possibility of further personal and professional development – thereby bringing professionalism together with social engagement on women's issues. Additional mentoring by Soroptimists will open the SIE network up to young women and attract them to give back as new members.
SDG 5 team and SIE Mentoring Task Group
---
Would you like to become a mentor?
Consult our mentoring Handbook and online training, available in English and French on the Downloads section of SIE Extranet:
https://extranet.soroptimisteurope.org/sieextranet/pages/login/login.jsf
Find out more about our scholarships and mentoring:
https://www.soroptimisteurope.org/scholarships-mentoring/
Apply to become a mentor by writing to: scholarship@soroptimisteurope.org