Every summer, SI Zilina's members organise a week-long camp for children from socially disadvantaged families. For many of the children chosen to take part, this is their very first summer holiday away from home.
This year, Soroptimists also invited Ukrainian children to the camp, whose mothers had found refuge from the war in their city.  To decide who should be offered a place at the summer camp, Soroptimists worked in partnership with local Slovak schools. The teachers selected students based on their family situation.
We hear from the 19 children (aged 6-18) who took part in this year's camp, 15 coming from Slovakia and four from Ukraine.
A diary from a large log cabin in the Terchova forest – the setting for adventures, fun and friendship (10-16th July 2022)
Sunday – Our adventure begins
We all became friends very quickly, playing sports, board games, drawing and having fun.
Monday – The Olympics!
This morning was marked by the Olympics. We gave great sporting performances and were awarded gold medals. We spent the afternoon playing games, creating art and competing.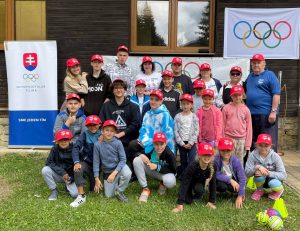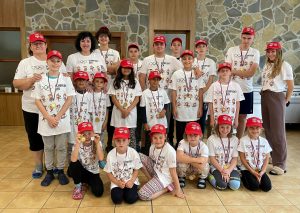 Tuesday – A day of wonderful experiences
We took the Terchova train to learn about the Slovak hero Jánošík. We went up to the observation deck and saw the beauty of Terchov's nature from a great height. Tired and satisfied, after returning from the trip we played sports on the playground, danced, played board games, and wrote letters to our loved ones back home…
Wednesday – Dogs & cars!
In the morning, we met Bora, Lara and Thami – three dogs who came to visit us for canis-therapy. We experienced a dose of adrenaline in the evening! Powerful cars with roaring engines came to take us on a drive.  Later in the evening, we collected wood for tomorrow's barbecue.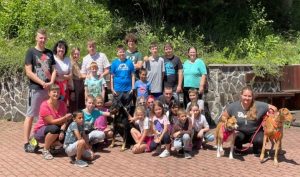 Thursday – A special visit from SI Zilina
We sang the Slovak anthem for our Soroptimist visitors and our Ukrainian friends sang the Ukrainian anthem. Afterwards, we showed our skills in recital, singing, card magic and yo-yo, and our dance group finished the programme with an amazing dance. We gave mosaic gifts of thanks to our visitors and ended the day together with a barbecue.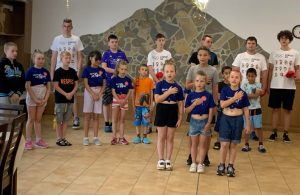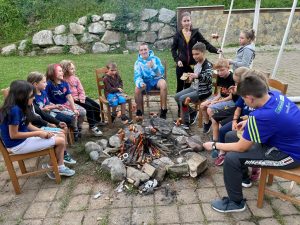 Friday – The last day
We ended the week with sports and hiking and in the evening, evaluated the whole week. We received beautiful gifts as a memento.
Everyone spent a beautiful week together, made friends, experienced a lot of things, played a lot and enjoyed life!
After the camp had ended and the children returned home, we received a letter of thanks from the mother of a Ukrainian girl who attended the camp. Her words fully express the beauty and value of our work:
Eva, I want to thank you for your camp! For taking my child for free! Ulyanka came home so happy, she says how much she liked it! Thank you so much, to your Soroptimist team, you are incredible! For us, Ukrainians, this support is now very important! Thank you very much!
The annual summer camp touches so many lives and brings joy, confidence and adventure to the children attending.
Thank you to everyone who contributed in any way to the realisation of our camp! We look forward to another year!
– Eva Maníková, Soroptimist member and Head of the Camp
---
Which is your Club or Union's proudest project? Tell us about it and we'll include it in THE LINK and on our social media channels so that it can gain more visibility, as well as inspire and help other Soroptimists.
Send your projects or activities to Virginie: siehq@soroptimisteurope.org