Women's Empowerment
'Final Rehearsal' raises funds for heart pillows
Map of projects
About this project
For the very modest price of €12, the Portuguese National Ballet Company (Companhia Nacional de Bailado) gives people the opportunity to see their dancers in the final stages of preparation before a performance by selling dress rehearsal tickets.
These tickets are allocated to Portuguese NGOs, who can use their sale to raise funds – at last count a total of €170,000 for 40 different organisations. Soroptimists were chosen as one of these NGOs to sell tickets for the Rui Lopes Graça-choreographed 'Tempestades' ('Storms'), which was set to music by Haydn at Lisbon's Camões Theatre.
Seeing an opportunity to raise the profile of the organisation as well as helping to finance the production of 'heart pillows', Soroptimists decided on a strategy to publicise the event with posters, flyers, newsletters and an email campaign.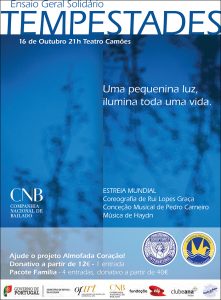 Thanks to this thorough planning, tickets sold out within a few days and the 'Solidarity Final Rehearsal' was a great success when it went ahead on 16 October 2014. Coincidentally, this was an especially appropriate date for the Heart Pillow project, as October is Breast Cancer Awareness Month.
---
Warning
: count(): Parameter must be an array or an object that implements Countable in
/home/clients/d77b80bdaec6315ec07bc35bc21b62be/web/wp-content/themes/soroptimist/single-projet.php
on line
116