For International Women's Day 2023, Soroptimist International of Europe (SIE) proposes to focus on gender inequalities.
Together by calling on all women to wear two different shoes on March 8th, it will bring greater awareness to the continued global inequality women experienced in daily life.
As stated by the United Nations, "gender equality is not only a fundamental right, but a necessary foundation for a peaceful, prosperous and sustainable world". Women currently represent 50% of the world population. Yet today, almost this half of the population does not have access to the same social or civil rights, educational or professional opportunities, or are victims of crime because of their gender.
Through the slogan WALK IN DIFFERENT SHOES FOR GENDER EQUALITY, we invite the Unions and Single Clubs to widely spread the campaign by:
posting (website and social media) the visual created for IWD 2023 and highlight three inequality facts that affect their country. Below you will find data about examples of inequalities in Europe and around the world.
printing and locally distributing the A5 flyer (universities, coworking spaces, gyms, stores …)
Informing the local media.
inviting all other women's organisations, politicians, ect. to participate by wearing two different shoes on March 8.
This initiative can be incorporated into any plans your Union or Single Club may already have planned.
As with the READ THE SIGNS campaign, the visual will be available in several formats on CANVA Pro platform and for printing the A5 Flyer we offer you an InDesign template. The slogan will be easy to adapt into your national language.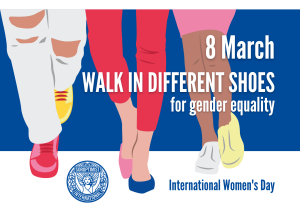 We also invite you to support our social media presence on 8 March by encouraging your members to film themselves walking in two different shoes to raise awareness on the inequalities that women encountered every day and post it online:
Use an Instagram Story or Reel format (1080 x 1920 px) when filming;
Post it on Union/club social media account;
Tag SIE @soroptimisteurope on Instagram and @SoroptimistInternationalofEurope on Facebook;
Add the hashtags #soroptimisteurope #westandupforwomen #equality #internationalwomensday #womensrights