The number of homeless people in Belgium's big cities has gone up.
Social actors, and the universities of KULeuven, UCLouvain and ULiège united in 2021 to carry out a census of homeless people, initiated by the 'Roi Baudouin Foundation'. The data collected made it possible to take more adequate and effective measures to support those experiencing homelessness – with an indicated 30-35% being women, sometimes accompanied by children.
Homelessness does not necessarily mean living on the streets. Female homeless people may spend the night in shelters, or stay with friends or a member of their family. They have the particularity of hiding, out of shame or to protect themselves from the dangers of the street. They endure a somewhat invisible distress that the Soroptimists of Visé decided to fight.
The Soroptimists organised a large collection of items, including basic necessities, to distribute to homeless women. The members of SI Visé launched their project in the city of Liège via the local press, calling as many people as possible to mobilise. And the appeal was heard!  People from all over donated bags, hygiene products, warm cloths and gloves to face the beginning of winter. Members of the Club coordinated the efforts and made their own contributions. They also organised the distribution of bulk donations of products from pharmacies, dentists and several other companies including 1,000 packs of humid tissues, 1,000 rolls of toilet paper, and 2,000 boxes of handkerchiefs.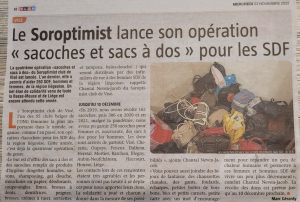 Driven by the need to provide support to this vulnerable section of the population, the members distributed 298 bags filled with necessities – many more than they had originally hoped for!
This large-scale action has been widely relayed in the local media to highlight simple gestures that can make the daily lives of homeless women more bearable and above all reduce their feeling of exclusion.
This is now the fourth time that the Club is undertaking such action. However, this time, the members feel that the situation has become even more difficult for homeless women, due to inflation and post-Covid consequences.
They continue to stand up for women and defend the values of unity, sharing, mutual aid and a sense of community.
---
Report your Club or Union's project in the Project Focus Report (PFR) section of our extranet, and your project could be selected to be 'The project of the month', bringing it greater visibility.