Last year we did it together and better than ever before!
Our groundbreaking prevention campaign, termed 'READ THE SIGNS', attained astounding success, inspiring us to repeat it in 2023 – this time, with an important addition…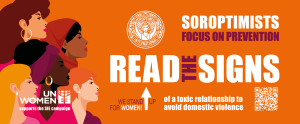 Expanding influence
Our READ THE SIGNS campaign in 2022 made an impact Europe-wide, thanks to the collaborative efforts of our Unions and Single Clubs. With a well-defined concept and materials translated into local languages, we witnessed the birth of numerous exceptional ideas and projects. Our authentic power for change gained recognition from UN-Women, who supported the campaign and invited us to include their logo on our visuals.
Building on success
As we gear up for Orange The World 2023, we aim to build upon the successful foundation of the READ THE SIGNS concept, incorporating its powerful visuals and informative landing pages. However, this year, we will take it a step further by introducing an essential component – mental health awareness. Recognising the importance of mental health within toxic relationships, Soroptimist International of Europe (SIE) is preparing six new videos on this subject.
The importance of recognising SIGNS
Recognising the SIGNS of a toxic relationship requires mental awareness and understanding. Developing healthy self-awareness is critical to getting in touch with your own emotions, thoughts, and behaviours and thinking about how they are affected by interactions with others. These psychological foundations of mental health will be addressed within the context of prevention and serve as topics for local panel discussions.
Sharing insights
On May 24, SIE hosted an open webinar, sharing insights and details about Orange The World and READ THE SIGNS 2023, including the new mental health element. For those who were unable to attend, the recording and the PDF of the presentation can be found on SIE Extranet.
Join our remarkable campaign
We are immensely proud of the accomplishments we achieved together in the past, and we wholeheartedly invite each and every one of you to once again be part of this remarkable campaign. Let us set the tone and make a lasting impact as we join forces to promote awareness, prevention, and positive change.