Today we share with you the inspiring and life-changing results of the 'Teenage Mothers' project carried out in Romania.
Fully funded and supported by the Union of Denmark, SI Slatina put this project into action with local school girls. We think you will be surprised at what this international collaboration achieved and its impact.
The members of the board of SI Denmark encouraged the club of Slatina to study the phenomenon of teenage mothers and to approach the issue from its roots, in the schools, with the goal of reducing teenage pregnancy. Since 2021, Soroptimists of Slatina have been providing assistance and financial support to nine teenagers (both pregnant and new mothers) to continue their studies, take care of their babies, and give them protection against social abuse.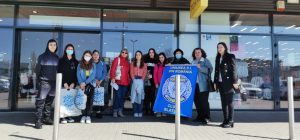 Coming at the situation from a pragmatic and forward-thinking position has impacted lives beyond those of the young mothers and their children.  The club's approach has understandably been appreciated for offering a model of good practice by:
Supporting continued education
Providing financial aid to the nine teenage mothers so that they could continue their studies and care for their children. This meant young mothers could purchase baby food, clothes and sanitary items, as well as clothing and hygiene items for themselves.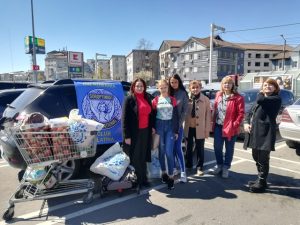 Developing healthy minds
Counsellors and school psychologists provide help to pregnant teenagers as well as their parents. They also explain to the parents about this generous project that will help their daughters after the birth of their babies.
Creating community spirit
SI Slatina invited students from the schools to help distribute aid and to facilitate communication with the teenage mothers. These students became an important vector of communication talking about the project to their peers, and giving them powerful messages, such as "Inform yourself and be careful not to get in this difficult situation".
Educating beyond the school gates
Currently, the proposed law to introduce sex education in schools is being debated in Romanian politics. Media coverage of the project acted to highlight, in a very real sense, the need for sex education in schools.
The results speak for themselves, since 2021, the main collaborators of the club found that no mother abandoned school or her children.
---
Follow us on social media to hear about more Soroptimist projects, and like, comment and share to help spread the word!