Dear Soroptimists,
It has been all we could think about for the past seven months. Finally, the hours of planning, drafting and testing have culminated in our Annual Governor's Meeting online (eGM) and the momentous vote on our new Constitution and By-Laws.

SIE President 2019-21 Anna Wszelaczyńska, SIE Secretary-General 2019-21 Hafdís Karlsdóttir, SIE Constitution and By-Laws Chair 2019-21 Nicoletta Morelli-Magnini and SI President Sharon Fisher 2020-21
Unions have done a wonderful job on the Constitution. Governors, Presidents, members of our Constitution and By-Laws Committee (CBLC) and many others have worked tirelessly to hold workshops and develop a votable draft. I would like to extend my personal thanks to the Chairperson of the SIE CBLC Nicoletta Morelli Magnini and SIE Secretary-General 2019-21 Hafdís Karlsdóttir. So many people came together to help make our eGM a success, sadly I cannot mention everyone, I would like to mention the members of our CBLC: Ilona Hagmann and Ayşegül Topdemir.
Updating the principles and regulations of our organisation came with considerable responsibility, one taken as a team, working for the common goal of a new Constitution to face the future!
The Constitution we have just voted for has laid the groundwork for further development of our Organisation. We were not the first, and are certainly not the last, to have worked on the SIE Constitution and By-Laws. It is clear to me that without the hard work of our predecessors we would not be where we are today. Likewise, the work we have carried out will form a stepping-stone for the Constitution and By-Laws of the future – one which I hope will include measures to empower Single Clubs.
For the second time in the biennium, we met online, which only added to the meeting's intensity. Resembling something of a marathon, the Governor's Meeting lasted 21 hours over three days and required a quick pace throughout. Participation was extraordinary. The SIE Board, Union and Single Club Presidents, Governors and approximately 160 silent observers all dedicated their hours to attending our online meeting and reaching the finish line.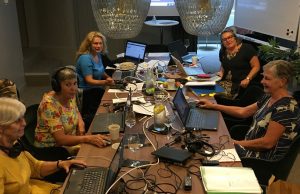 Swedish Governors, along with Danish Governors and Union President, were reunited in Malmö (Sweden) to participate in the eGM 2021
The Chairperson of the SIE CBLC, Nicoletta Morelli Magnini, did a marvellous job during the meeting. She led us through each and every vote, unwaveringly until the happy end. I am sure everyone will remember her call for years to come: "The pool is open! Go to the pool!" i.e. vote!
It is not often that Excel gets a special mention, but thanks to our Secretary-General, Hafdís Karlsdóttir, and her masterpiece, it does. She dedicated hours to developing high-level visibility on each motion, with clear explanations, cross-checking texts and identifying similar motions sent by different unions, for which I am truly grateful.
For our Headquarters, their second ever eGM was a challenge of a greater magnitude this year. I had no doubt that this strong team would deliver, and deliver they did, with a reliable system to vote for a new constitution and SIE Board 2021-2023. Behind the scenes, they put in tremendous work in preparations and 'burnt the midnight oil' during the meeting itself so that live motions could be voted on. I was amazed to hear of the sheer number of computer screens set up everywhere, as well as to have a direct ZOOM connection to some members of the Board for communication on the voting sequence.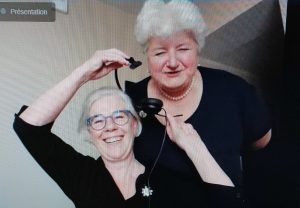 We are fortunate to have a Headquarters to orchestrate a successful and fruitful online event of this magnitude for the first time ever. Special thanks go to our Executive Director, Lora Foster; Communications Officer, Virginie Racine; and Administrative Officer, Mélissa Coton. How they managed, I really do not know.
I am so grateful that Governors have strongly supported our Headquarters team. Each member of the team has continuously proven their professionalism and dedication to us, and now we have done the same to them.
We have plenty to look forward to in our organisation's future. Our Headquarters Team will now begin the task of preparing our new Constitution and By-Laws, which will be implemented as of 1st October 2021. We shall also see surplus funds from 2020 being put to good use – a decision taken during the meeting which I am personally grateful for.
Now, all that remains is for me to wish you excellent, well deserved holidays! Stay healthy and well, and I look forward to seeing you all at our Biennium Celebrations in September.
---
Information on the biennium celebration will be shared with you in the coming weeks via our website and our social media channels.
Follow Soroptimist International of Europe for updates:
For more information on the eGM 2021, SIE members can visit our Extranet, where all presentations are available. More information on the new Constitution & By-Laws will be available at the beginning of the new Biennium in October.