Hosted by The Government of Burkina Faso, in collaboration with the Governments of Canada, Egypt, Italy and Zambia, the European Union, the United Nations Population Fund (UNFPA) and the United Nations Children's Fund (UNICEF)
Side Event – 9 March 2023
Female genital mutilation (FGM) and child marriage remain recurrent practices throughout the world, despite their formal prohibition in most countries. These harmful practices are widely recognized as a violation of human rights of women and girls, as they prevent them from fully enjoying their rights and opportunities as men. Global progress has been made towards achieving Sustainable Development Goal (SDG) 5, gender equality and girls' and women's empowerment; target 5.3, eliminating harmful practices.
The COVID-19 pandemic has also disrupted the progress towards the full abandonment of FGM and child marriage and put more girls at risk. At the same time, the pandemic also significantly expanded the use of digital technologies and solutions which are making headway in addressing both FGM and child marriage.
The panel highlighted challenges and opportunities that innovation and technological change could bring to programmes aiming to eliminate FGM and child marriage.
Mrs Nandy SOME DIALLO, Minister of Solidarity, Humanitarian Action, National Reconciliation, Gender and Family (Burkina Faso):  "We should recall that traditional practices persist throughout the world and in all regions of Burkina Faso despite a number of institutional, traditional, policy and community measures that have been taken. In order to put an end to FGM and child marriage which have extremely harmful effects, we must act. 13% of girls are still victims of FGM in Burkina Faso, 56% of girls are married before the age of 18 and 28% are married near the age of 15. As regards to FGM, […] this practice is a serious violation of human rights, especially for women and girls because it harms their sexual and reproductive rights."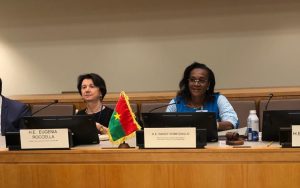 Mrs Eugenia Roccella, Minister of Equal opportunities, Natality and Family (Italy) "Italy through its development's cooperation, has been a strong supporter of the multilateral initiatives aiming at gender equality in the different SDGs and in particular to fight FGM […]. Even in Italy, thousands of women and girls are subjected to such practices that constitute a relevant human rights violation.
I believe it is crucial to encourage women to speak out and to report the offense offering victims assistance and care […]. It is important to tackle FGM through initiatives that include a multilevel approach. It is essential moreover to ensure that the perspectives of women and girls in general and survivors in particular, are taken into account when governments and law makers are asked to design policies related to FGM and gender inequalities."