The better expression of this day is the International Day of Women's Rights as there is still a need to highlight inequalities between men and women.
One among many of the historical marks for this day is an organised strike in New York 1957. Female textile workers marched in protest of unequal rights for women and unfair working conditions.
Still in 2023 women all over the world are facing unfair working conditions and unequal rights – and this is the why we as Soroptimists need to stand up for women.
Soroptimists and the 8th of March
Soroptimists in Europe have a long tradition of doing activities or starting up projects on this specific day. Marches and speeches in public places, public seminars on female rights, scholarships for women and girls to name a few examples of actions done. Activities connected to all our focus/programme areas: education, women's empowerment, health & food security, and sustainability.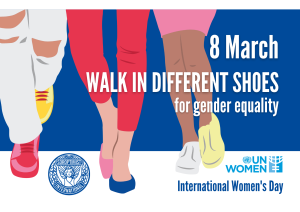 Focus on the facts and make it visible
The Federation has initiated a concept to improve our visibility as an organisation.
Through the slogan WALK IN DIFFERENT SHOES FOR GENDER EQUALITY, we invite Unions and Single Clubs to widely spread the campaign by:
Posting (website and social media) the visual created for IWD 2023 and highlight three inequalitiy facts that effect their country.
Printing and locally distributing the A5 flyer (universities, coworking spaces, gyms, stores …)
Informing the local media
Inviting all other women's organisations, politicians, etc. to participate by wearing two different shoes on March 8.
For more information, click HERE.
Wishing you a successful International Women's Day and that this year's activities bring us another step closer to achieving equality for women and girls now and in the future.
---
Support our social media presence on 8th March by liking, commenting and sharing our content, as well as creating your own posts using the hashtags #soroptimisteurope #WeStandUpForWomen #equality #internationalwomensday #womensrights