Balat Culture House has become a symbol of Turkey's multicultural and multilingual society. Inspired by the people living in this district, Soroptimist Turkey launched the KoroBiz project, or 'Our choir', to unite women and girls of different national, cultural, and religious backgrounds through song.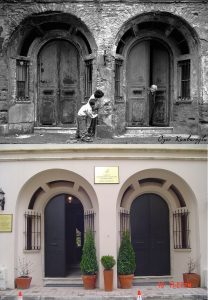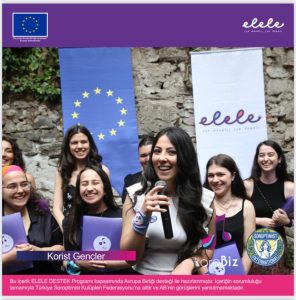 The population which settled in Balat is a mix of Roma, Turks and Kurds (from South-eastern and Eastern Anatolia, and the Black Sea region), and Syrian immigrants who have settled in the region recently. On the opposite bank of the Golden Horn, there are settlements of Assyrians and people belonging to the Armenian community. Within just 200m of Soroptimist Turkey's Balat Culture House, there are mosques, the Fener Greek Patriarchate, the Sveti Stefan Church, and the Ahrida Synagogue.
The KoroBiz project creates an intercultural dialogue bridge based on the unifying power of music
The KoroBiz project promotes an environment where there is peace and dialogue by bringing people living in the multicultural Balat neighbourhood together through melodies. They are something we are all familiar with, whatever our mother tongue, and by singing them as one, we remove the sense of 'them' and 'us' and sing united by song.
This project, supported by the EU Dialogue Project for Change Through Art and Culture (ELELE), gives life to songs and melodies in different mother tongues, which form part of Turkey's rich culture. The chorists are made up of girls and young women from the local community (mostly between the ages of 15-29). They sing in many different languages including Turkish, Armenian, Ladino, Greek, Romanes, Kurdish, Zazaki, and Syriac. With the valuable contributions of the members of the Soroptimist Turkey Advisory Board, the girls' songs and melodies reach harmony in Balat.
Click on the video below to hear the choir singing together:
The project, which will run until October 2022, will hold a final concert in a special venue that reflects its multicultural nature. Thus, having the opportunity to convey Soroptimist Turkey's contribution to social integration and peace to a wider audience.
Through this project, we have the opportunity to experience a sense of togetherness again.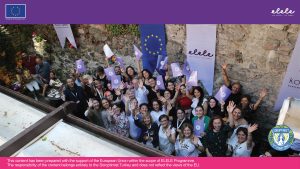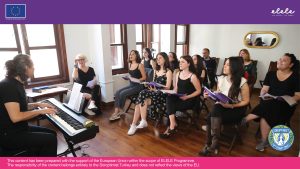 ---
If you love art and will be in Turkey 30 September- 2 October 2022, we invite you to attend 'Art in Buldan' a festival in Buldan, in Turkey, showcasing artists and craftswomen.
We hope to see you at the festival, which is a joint project between the Soroptimist clubs of Denizli and Karşıyaka, and supported by the Turkish union.