Dr. Suzanne Noël, the founder of Soroptimist International of Europe, was one of the first women in France to specialize in the area of plastic and reconstructive surgery.
On the occasion of International Day of Zero Tolerance for Female Genital Mutilation, Dr. Ghada Hatem-Gantzer, specialized in reconstruction and reparation of sexual mutilations and founder of the House for Women in Seine Saint-Denis, France, agreed to share with us some of her thoughts.  Dr. Hatem-Gantzer will be at the Governors' Meeting in Luzern, where she will be giving an interactive session in French on her work with women victims of violence.
International Day of Zero Tolerance for FGM reminds us that it sadly remains a prevailing problem. What is your assessment of the situation today? Which changes have taken place since you started working?
"I have been a gynaecologist for the past 30 years, and the main change I can observe is the improved knowledge that the public has of this issue, including patients themselves, even if it is far from being sufficient. Many actors are committed to the provision of care and to prevention, which is also reassuring, but there is still work to do. Even if excision is forbidden in almost 30 African countries, it is still being done without condemnations, and the results from UNESCO show that practices evolve very slowly. Moreover, we now know that Africa is far from being the only affected area, as this practice is also frequent in Indonesia, Malaysia, Dagestan in Russia…
Some publications are very worrying, as they show the progress and medicalization of excision in countries such as Egypt. This means they are performed in care centres (hospitals, dispensaries) by medical staff whose first mission is to protect and heal! Other publications report the renewal of this practice in adult women, married and sometimes already mothers. Their husband, not being respected because his wife is impure, and wishing for example to start a political career, demands from his wife that she submits to this tradition that she had been able to avoid when she was younger.
Other, less mutilating interventions seem to take the place of excision such as pinching or stinging, probably to maintain the symbolic tradition of the transition from girl to woman, but patients usually are not aware of the nature of what they have undergone, but are just as traumatized.
Of course, today in France, the practice of excision is very rare thanks to the trials initiated 30 years ago and the implication of lawyers and doctors, such as the Dr. Emmanuel Piet who generalized the systematic examination of young girls in mother and child centres, before and after a trip to the country of origin. Unfortunately, some parents avoid this difficulty by having their daughters cut later, at an age where she does not consult in the centres anymore, thus only contributing to postponing the age of the cutting."

When you were the Director of the maternity clinic of Saint Denis Hospital, you created a facility for reconstruction and reparation of sexual mutilations.  What led you to create this facility?
"The motivation to create and develop this unit was born from my years-long interest in the topic, together with the high number of women from sub-Saharan immigration which the maternity service takes care of and who are excised. It seemed to me that the Saint-Denis hospital (and actually the whole area of Seine Saint-Denis) was the most pertinent location to provide this care. My preoccupation with gender equality, which dates back to my childhood and which was largely reinforced by my job as gynaecologist probably also had an impact."
In the Saint Denis House for Women, you provide care to women victims of FGM. Which treatments are the women looking for? Which ones are a priority according to you?
"The women who come to us have different needs: be examined and understand precisely what they have been victims of; understand the consequences of excision on their health, physical, psychic, and sexual; know the possibilities and modalities for reparation; have a better understanding of their sexuality and have their trauma care managed. But they also appreciate sharing their stories with other patients, which is offered during our monthly support groups. They want to have higher self-esteem and to reconcile with their bodies, which is why we have implemented workshops (drawing – photography / psychomotricity / karate / oriental dance) as well as a free body-care (osteopathy and Ayurvedic massages).
What "works" is this "care" approach with a whole chain of caregivers involved. But the priority treatments are probably the meetings with the caregiving staff who knows the topic and can help them to better understand the stakes and the consequences, together with the management of the trauma."
Which actions would you recommend to prevent the phenomenon of FGM in the concerned regions?
"We are field caregivers, active with the populations that we welcome and that we know. But we are probably less pertinent than NGOs involved for years in the actions to take in countries where the practice is lasting: Tostan, Equipop, le GAMS… who work also for the indispensable reinsertion of former cutters.
In parallel, many actors are wondering about the pertinence of a "zero tolerance" message which does not seem convincing and might be impossible to implement at once. We probably have to reconsider our prevention messages.
This being said, it seems to me that without engaging men and without deconstructing the discourse that roots itself in fake religious injunctions, it will be hard to make progress in France. It is necessary to convince community leaders, educators and imams. Find the support of artists committed to the cause and respected in their communities, create a dialogue in middle and high schools and even in mosques, continue to organize events to communicate on the topic and promote prevention campaigns such as the one from Alert-Excision, of which the House for Women is a sponsor.
And let's not forget the promotion of gender equality, which requires ongoing education and information work!
And why not create a support group dedicated to men in the House for Women?"
Soroptimist International of Europe is made up of women volunteers in diverse professions, organized in Clubs in more than 60 countries. Which advice would you give them to efficiently support the fight against FGM or to help victims?
"The Soroptimist could be a formidable information network for women from communities where excision is practiced, and for all the other women who, better informed, could engage with their immediate surroundings. For example in their children's schools or in their workplace, for the diffusion of knowledge and prevention, even the organization of cultural and artistic events. Fund-raisings or volunteering actions could also allow the integrated centres and associations taking care of the women to provide essential treatments for free, such as body care and the different workshops."
Would you like to share any further thoughts?
"We have a big project with the team of the House for Women: create a network of "Houses for women" in the whole of France to welcome the 250 000 women victims of violence.
To achieve this, our Sponsor Inna Modja will be once more by our side. We will launch together our movement: Let's be heroines. We call upon artists, celebrities, enterprises to join us to roll out Houses for Women everywhere in France.
To start off this dynamic of solidarity, we are organizing a big event: the Concert of Heroines. It will be broadcasted everywhere in France via social media, on the 3d of May."
Join us to be Heroines and fight for the elimination of violence against women:
https://www.gofundme.com/maisondesfemmes 
This interview was translated from French.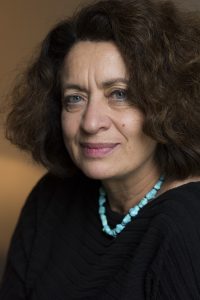 Dr. GHADA HATEM-GANTZER
Ghada Hatem-Gantzer is a French-Lebanese gynecologist-obstetrician born in 1959. She left Lebanon in 1977 to study medicine in Paris and made a career in gynaecology/obstetrics. She became head of the maternity ward at the Delafontaine Hospital in Saint Denis in 2011. It is attended by patients sometimes living in great precariousness and coming from many countries, and no less than 14 to 16% of female patients are circumcised. Ghada Hatem-Gantzer trained with urologist Pierre Foldes and created a service for the reconstruction and repair of sexual mutilation in the hospital. In 2016, she founded the "Maison des femmes de Saint-Denis", the first structure in France to offer comprehensive care for women victims of violence. Victims of excision, rape, incest, physical and psychological violence find support and care adapted to their needs, thanks to the wide network of partners set up by Dr. Hatem-Gantzer. The unit created by Ghada Hatem-Gantzer to take care of excised women has been awarded the "Center Fleur du Désert" label.