Grantee Caroline Lambin
Industrial Engineering Student
Sponsored by the Union of Belgium
I am studying polyvalent industrial engineering. I am very interested in the STEM field, due to my passion for cars, motors and building construction since my early childhood. It's not so common for young women to choose these studies (we are about 10% in our year), but nevertheless it is worth it as we are looking for the opportunities that open up for women in nowadays' industries. Seeing other women who succeed in a 'men's' world is really motivating me.
The technical field is huge and there are still big progress to be made for us women. Women can make the difference in that typical men's world and being part of it will be a privilege. Participating in the SIE Congress is a privilege as well, because of all the interesting speakers, other young women in the same spectrum, meeting soulmates in a similar domain. Plus this in a country well known for its architecture, building cars, design, painting, food.
Grantee Dèsirèe Bellan
Physical Engineering student
Sponsored by the Club of Valsesia, Union of Italy
Hi, I'm Dèsirèe Bellan and I'm studying physics engineering at the Politecnico of Torino.
I believe that the most important skill of the human being is the ability to communicate and create different types of languages to describe the world around us; Math is one of the most universal languages developed throughout history, and one that allows us to best understand the beauty and mystery of the universe. That is why I have been always so interested in Physics and particularly in the way that we can use the knowledge provided by the study of nature to create new and more efficient technologies, in order to help others and change our society.
As a student, and also as a woman, I'm glad to have the opportunity to participate at the SIE Congress, not only because this year it takes place in the beautiful city of Firenze, but mostly because I'd like to support personally this kind of initiative which, in my opinion, could really help to create gender equality in all fields of science and finally highlight all those 'hidden figures' that help us silently every day.
Grantee Victoria Sosnovtseva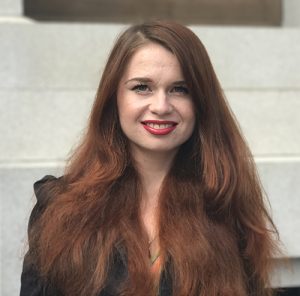 Physics student
Sponsored by the Union of Denmark
I began studying physics because, as a child, when I looked up at the sky I felt deeply frustrated at not knowing how the universe had come into being. Later, at university, I was struck by the deep beauty of quantum mechanics, and its society-changing applications in quantum computing. I am currently undertaking exciting research on new materials that could be used as the basis for quantum computing.
Being one of the few women in my physics classes has opened my eyes to the under-representation of women in STEM. I am therefore very excited to be attending this year's SIE Congress that focuses on inspiring women in STEM. I have myself tried to be a role model for younger women and hope to do my bit to inspire others and hopefully increase the percentage of women studying physics and other sciences. I strongly believe that young women need role models and support in order to fearlessly pursue careers in the science, to gain confidence and to stop doubting themselves.