Grantee Francesca Chiara Donatiello
Student in Aerospace engineering
Sponsored by the Club of Lucca – Union of Italy
I spent my childhood in the countryside. While my parents were at work, I used to follow my grandfather into the fields, learning the best moments to sow certain plants, or how to build a water circuit, along with what to do to fix the wiring, as he used to be an electrician before retiring to a farmer's life.
When I was not with him, you could find me by my grandmother's side. She taught me how to bake cakes, to sew and to recognise different plants, but the most important thing she gave me is Maths. She studied as a bookkeeper. She could spend ages teaching me to count forwards and backwards walking on the steps, and she even explained to me, a five-year-old little girl, the nine-times table.
Thanks to my grandparents, and encouraged by my parents, I grew up curious about how everything works, and I learned to see numbers as a game, always looking for them in the world that surrounds me.
This brings me to a year ago, trying to figure out which faculty to choose. I was about to apply for Maths, but then I realised what I really want to do is to expand my knowledge in the more STEM fields I can and use it to actually design and build something. That's why I'm currently studying Aerospace Engineering. It allows me to unite the most theoretical studies among every Engineering course I know here in Italy (you need to know a lot of Physics as well as Chemistry and Maths when you are going to make stuff fly) with the excitement that everything above my head, be it a plane or a shuttle, has always raised in me.
When I found out about the SIE Congress, I got very interested. First of all, it is a wonderful occasion to directly listen to great experts and amazing personalities. Secondly, I have always found female figures in STEM fields really inspiring, not because they are the demonstration that women can do STEM (it never occurred to my mind the contrary), but because they are such excellent minds and strong personalities, they could emerge and have a say even in a world of prejudices. Every woman, every discriminated person who does it, keeps telling me: "you can work harder, you can do better".
Grantee Beyza Özen
Student in Civil Engineering
Sponsored by the Union of Turkey
Hi, my name is Beyza Özen. I am a senior civil engineering student at Boğaziçi University, Turkey. I am also a scholarship holder on behalf of Sadun Katipoğlu (SI President 1985-1987), a successful business woman who is an inspiration to all Turkish women on top of being a role model for me.
I am always impressed by those huge structures and I wanted to be the one that creates them. So, I have closed my ears to people talking about difficulties of being a woman in the field of engineering and I have been working hard to become a civil engineer.
I worked in many construction yards. I think you all hear the cliché about construction areas: those are the places for men. Expectedly women are not welcomed easily. The first week is the hardest one. Almost all the workers wondered what I was doing there. And they always try to find weaknesses to convince me that a woman is not suitable for construction yards. After 3 or 4 days, they start asking questions and it is a good sign because it is the time for me to break their prejudices about women in engineering areas. Usually towards the end of the second week, the workers asking me questions, invite me to their coffee breaks and start seeing me as a coworker without thinking about my gender. I am trying to break down the prejudices about women in STEM and to encourage women to appear in STEM at every step of my life.
It is an honor for me to be with people who aim at the same objective with me at this year's SI Congress and I would like to end my words with a quotation from our great leader Mustafa Kemal Atatürk.
"Everything we see in the world is the creative work of women."
Grantee Valentina De Vuono
Student in Biotechnology
Sponsored by the Union on Italy
I have always shown a natural inclination towards science and technology. Therefore it has been simple for me to choose to study biotechnology. Enthusiasm and curiosity constantly push me to increase my scientific background and I study hard in order to learn as much as possible. Currently I am also gaining practical experience by carrying out an internship in a Proteomic research lab at "Magna Graecia" University of Catanzaro, where we are studying bodily fluids with the goal to investigate potential biomarkers by MALDI-TOF. I strongly believe in the power of STEM education because it represents an interdisciplinary approach where rigorous academic concepts are coupled with real-world issues. STEM disciplines create a connection between school, community, work, and the global enterprise. Nevertheless, one existing stereotype is the putative poor attitude of female students toward STEM subjects that leads to a gender gap in these areas. The little importance given to women in the scientific-technology field feeds the preconception that they would be inadequate in such areas and makes them believe that technology and science are privileges exclusive for men. 
The European Commission's Cohesion Policy aims to reduce gender differences. To this aim, the current European development lines, that focus on "S3 specialization strategies" such as digital innovation, green economy, smart cities, digital health and biotechnology, strongly encourage women's innovation. STEM poses as an important ecosystem favourable for the development of these fields. These initiatives, the SIE congress in particular, allow to address the young people in these emerging sectors of development.
So… yes, we STEM!
Grantee Hoby Sandra Rakotondranaly
Student in Chemistry
Sponsored by SIE
Ever since high school, choosing the scientific path was an easy decision for me, considering my interest in chemistry and math. In an era in which many associate the chemical industry with pollution, the discovery of a book on the chemistry of a sustainable planet did little to influence me to pursue my university studies. I am currently studying Chemical and Industrial Engineering. The challenge of reconciling chemistry with sustainability is quite pertinent. With the vision of environmental preservation, I intend to specialize is waste processing. This field offers countless possibilities for material and/or energy recovery while avoiding wasting of resources. I truly want to contribute to the green revolution with my abilities.
Even if the number of women in STEM continues to grow, we will still remain few and far between in this field. The thought of meeting other young women who share my passion pour the STEM fields fills me with immense joy. The SIE Congress is an excellent opportunity for intellectual exchange and personal enrichment, also due to its international nature. It is an immense privilege to participate as a scientist, and above all, as a female scientist!
Grantee Elisabeth Fiederling
Student in Mechanical Engineering
Sponsored by the Union of Germany
Electricity and the Internet are fantastically practical and so we made them our omnipresent companions. But what if one day, there was a power blackout and all those things we relied on ceased to work? The only things that would remain functional are the mechanical ones. That's what mechanics are for me: clear, reliable and enabling. Mechanics bring humanity both into outer space and into the deepest ground.
For me, the triggering spark came with Pro Technicale, a technical orientation year for girls I joined after finishing school. Given various instructive opportunities there as, for example, laying the hydraulics in Airbus passenger planes, building lifesaving defibrillators and engineering radio transceivers for microlight aviation, I was soon drawn into further curiosity, especially about aerospace and medical technology.
Today I'm studying mechanical engineering at TU Munich. From my understanding, the proportion of merely 15% female students in my semester is too low for the modern times we are living in, especially in regard to the technical talent many girls may probably never acknowledge nor live out due to lacking confidence in our role sensitive society.
Apart from that, it is now in my current semester that I need to decide which subject area I am finally going to specialize in. Thus I am convinced that a look beyond the boundaries, listening to lectures by female practitioners and meeting interesting women will be of great help to me and surely very motivating!
That was already the case when I was invited to a meeting of the German Soroptimist club Villingen-Schwenningen in order to present my experiences with the Pro Technicale project that subsequently received the Soroptimist International Germany Award 2017. The cordiality and variety of personalities I encountered there was fantastic! So I have no doubt that it's going to be a great pleasure being part of the SIE Congress soon.
Grantee Stéphanie Vuillermoz
Student in Mathematics
Sponsored by the Union of Italy
Notwithstanding my humanistic high school education, I decided to study Mathematics at University due perhaps to my musical background. As a matter of fact, while I progressed with my studies in Maths I had the chance to confirm the close relationship between numbers and music.
Moreover, I truly believe that Mathematics are linked to a wide range of subjects: not only what people usually believe the scientific world is about, but also many other cultural and social dimensions.
After my first three years of University I decided to specialise in didactics of Mathematics. This is because I strongly believe in the primary importance of scientific divulgation which is too often considered to be second to theoretical studies.
 Even though during my career I had the opportunity to meet several women studying and working in the scientific world, we must recognise that numbers show us a different reality: women make up only 17% of the STEM workforce. I hope that events such as the one we are about to experience will help to break this glass ceiling.
Grantee Alice Beghin
Student in bio-engineering
Sponsored by the Union of Belgium
When I was a small child, I was always wondering about, and amazed by,  how things worked in the world. I annoyed several family members multiple times with the question: 'How does that work?' In high school, I found most of my answers in science and at university I chose to study Bioscience Engineering since it had all the sciences, like biology, chemistry, physics and mathematics in one diploma. Later I found my passion in Food Technology. It is so interesting to know how something as basic as food is so complicated, how it is made, how we can optimise the process of making food, how we can make it healthier and so much more. Nowadays I annoy my family members with everything there is to know about food.
I am very excited to meet young women from STEM since there aren't that many in our field. I think we can learn a lot from each other, inspire each other and support each other to do great in our field of STEM.
Grantee Alessandra Lucini Paioni
Physical Chemistry Student
Sponsored by the Club of Crema – Union of Italy
I'm a PhD candidate in the field of Physical Chemistry. Specifically, my main project deals with the development of novel routes for applications of Nuclear Magnetic Resonance and I firmly believe in the power of this technique to answer important biological questions.
I'm really looking forward to this Congress because it will be a great opportunity to meet, and discuss with, people that share the same intellectual curiosity about science, especially from a female point of view, which is still lacking at the moment. But now it's time to make a change and I want to be part of it!
So I believe that listening to the stories and experiences of women who dedicate their lives to science will definitely be very inspiring for my future.
Grantee Caroline Lambin
Industrial Engineering Student
Sponsored by the Union of Belgium
I am studying Polyvalent Industrial Engineering. I am very interested in the STEM field, due to my passion for cars, motors and building construction since my early childhood. It's not so common for young women to choose these studies (we are about 10% in our year), but nevertheless it is worth it as we are looking for the opportunities that open up for women in today's industries. Seeing other women who succeed in a 'man's world' is really motivating for me.
The technical field is huge and there is still big progress to be made for us women. Women can make the difference in that typical 'man's world' and being part of it will be a privilege. Participating in the SIE Congress is a privilege as well, because of all the interesting speakers, other young women in the same spectrum and meeting soulmates in a similar domain. Plus this in a country well known for its architecture, cars, design, painting and food.
Grantee Dèsirèe Bellan
Physical Engineering student
Sponsored by the Club of Valsesia, Union of Italy
Hi, I'm Dèsirèe Bellan and I'm studying Physical Engineering at the Polytechnic University of Turin (Politecnico di Torino).
I believe that the most important skill of the human being is the ability to communicate and create different types of languages to describe the world around us. Math is one of the most universal languages developed throughout history, and one that allows us to best understand the beauty and mystery of the universe. That is why I have been always so interested in Physics and, particularly, in the way that we can use the knowledge provided by the study of nature to create new and more efficient technologies, in order to help others and change our society.
As a student, and also as a woman, I'm glad to have the opportunity to participate in the SIE Congress, not only because this year it takes place in the beautiful city of Firenze, but mostly because I'd like to personally support this kind of initiative which, in my opinion, could really help to create gender equality in all fields of science and finally highlight all those 'hidden figures' that help us silently every day.
Grantee Victoria Sosnovtseva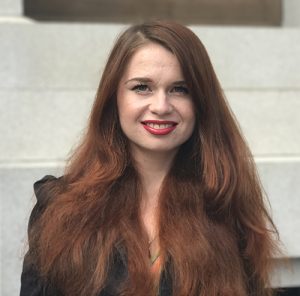 Physics student
Sponsored by the Union of Denmark
I began studying physics because, as a child, when I looked up at the sky, I felt deeply frustrated at not knowing how the universe had come into being. Later, at university, I was struck by the deep beauty of quantum mechanics, and its society-changing applications in quantum computing. I am currently undertaking exciting research on new materials that could be used as the basis for quantum computing.
Being one of the few women in my physics classes has opened my eyes to the under-representation of women in STEM. I am therefore very excited to be attending this year's SIE Congress that focuses on inspiring women in STEM. I have myself tried to be a role model for younger women and hope to do my bit to inspire others and hopefully increase the percentage of women studying physics and other sciences. I strongly believe that young women need role models and support in order to fearlessly pursue careers in the sciences, to gain confidence and to stop doubting themselves.