Dear Soroptimists,
Welcome to the new biennium! New starts are almost synonymous with refreshed enthusiasm and changes.
Our Soroptimist biennium is no different and with it we have introduced a new structure, based around these five Soroptimist Development Goals (SDG5).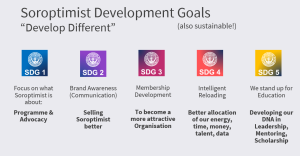 Each goal is sustainable, aims to develop differently and harness each member's skills and experience.
This month, I would like to introduce you to our fifth SDG5, 'We stand up for Education.' We do this in so many ways, but fundamentally it comes down to leadership, mentoring and scholarship.
Soroptimist Leadership Academy (SLA)
Our SLA inspires young women and girls by providing them with a programme to help them become the leaders of tomorrow. Speakers, who are outstanding professional women, share their knowledge and coach these young women on communication skills, resilience and self-awareness. Participants leave with life and professional skills, giving them the strength and know-how to lead fulfilling futures. Not only this, but they are inspired to become the next generation of Soroptimist members!
The French Leadership Academy 2022 is ready to start with the slogan 'We Stand Up For Women – Start Small Finish Big,' and will run 3-10 July.
The Soroptimist Nordic Leadership Academy will run next year from 27 June to 3 July.
Why not have more Leadership Academies within the SIE to develop the leaders of tomorrow and promote Soroptimism? Our projects will be more visible, create wonderful opportunities for women and girls, and increase their network among peers and Soroptimists.
Mentoring
We will continue to support women and girls through mentoring, by following the professional approach and vision of Saija Kuusisto-Lancaster and the Mentoring Team. To enlighten the SLA participants' horizon, they will be able to join us as a mentee.  The Mentoring Team has meetings scheduled with the Mentoring Coordinators to kick-start our programme!
Scholarships
We are welcoming new promising candidates!  The first step has been taken and, by now, all our unions and single club presidents should have received detailed instructions and documentation on how to apply for an SIE Scholarship grant.  Please contact your Union or Single Club President to recommend a candidate for a scholarship.
Last, but not the least; 'We Stand Up For Women' by moving forward and improving the lives of women and girls. A major part of that is keeping the SI President's Appeal 2021-2023 'Opening Doors To A Bright Future' sincerely in mind.
Make a donation to the President's Fund by clicking here.
---
Check out our website and follow us on social media for the latest news on our SDG5 and SLA: