A young girl, the daughter of beekeeper parents, observed that their family hives' honey production was inexorably decreasing over the years. Without realising it this experience led Coline Monchanin to a life-long passion for bees and a scientific vocation for ecosystems.
Skip forward a few years and Coline has travelled the world in pursuit of answers about this invaluable insect. From her base in Charente, France, she has voyaged to take part in research programmes and publications in New Zealand, Kyrgyzstan, Italy, Peru, Iceland, the Technical Institute of Bees and Pollination and INRAE Avignon, Thailand, Malaysia and Borneo. Her research led to her being awarded the L'Oréal-UNESCO France 2020 For Women in Science Young Talents Prize for 'Women and Science'. And more recently her studies were brilliantly crowned with a Doctorate in Biology.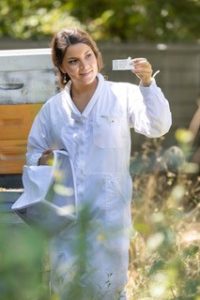 The numerous articles published in the local French press and in a specialised magazine on beekeeping aroused the interest and curiosity of the members of SI Angouleme. Thanks to one of the Soroptimist beekeepers, the club was able to get in touch with Coline. The Soroptimists presented their organisation, including the possibility of applying for a scholarship. The young scientist showed great interest in the Soroptimist movement and in the opportunity of continuing her education with financial support.
In 2021, SI club Angoulême put 28-year-old Coline forward for a SIE scholarship grant.  This was for another of her ecology-related passions: scuba diving and marine conservation, especially the protection of corals. Coline discovered this passion during her first internship in a marine conservation centre in Thailand and wished to further pursue it.
In July 2021, SIE awarded her EUR 5'000. This grant enabled her to return to Thailand in February 2022 to complete her training as a marine conservation instructor at the Aow Thai Marine Conservation Center.
Whether it's bees or coral, Coline's career goal is to better understand the impact of humans on their environment and how to mitigate it and preserve our valuable ecosystems.
---
Invest in young women's futures
Soroptimist Scholarship Grants
The Federation awards grants totalling in excess of EUR 100'000 each year to young women.  These grants cover needs such as university fees, vocational training, and general support during studies. Candidates may be Soroptimist members or non-members – in which case their application must be supported by a Soroptimist. Each Union may nominate two candidates and each Single Club may nominate one candidate.
Unions present the candidates recommended by their clubs. The amount of a single grant is capped at EUR 15'000.
Share your stories of scholarship grantees with us and inspire other young women to achieve their educational goals.
Soroptimist Mentoring
Mentoring programmes take a number of different forms, but all serve the same purpose: to empower women in their careers. Some Unions and Clubs collaborate with other institutions in mentoring young women; others work with universities to create customised programmes for participants.
Contact us if wish to become a mentor, or have a candidate for mentorship.
Follow us on social media to hear about how Soroptimists are investing in young women's projects, and like, comment and share to help spread the word!