The first Soroptimist Growth Academy (GA) has sowed some very powerful seeds.  We hear from GA speaker, attendee and SI Germany member, Eleonora Bonacossa, who was voted 'one of the top 20 business coaches to look out for in 2021' by Entrepreneur Herald.
Soroptimists attending our first ever GA benefited from her unique style and experience in the workshop she gave providing 'Training on how to spread the knowledge acquired in the GA or in SIE Online workshops in your Union/Club'.  Today, Eleonora shares with us why the event had such a huge impact and gives us tips on how we can all become good leaders.
---
 "I wish I had been given the opportunity to hear and learn these things years ago, then everything would have been different" and "I am so inspired and full of energy!".
These are just some of the many comments I read on LinkedIn, Facebook and Instagram from fellow Sorores who participated in the first Soroptimist Growth Academy. We met in Kortrijk, Belgium in June for two days of workshops and discussions. Carolien Demey, President of Soroptimist International Europe, developed the Growth Academy to provide a major opportunity for all of us:
To grow as individuals and Soroptimists
To be inspired by female professionals in the fields of leadership, strategy and communication
To look at things from new perspectives
To learn how to renew, develop, and evolve
To look at problems but see opportunities
To have an intense exchange among female professionals under the banner of diversity and inclusion
To help foster high-impact meetings and quality networking
To remind us to be in learning mode – always!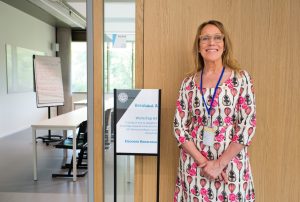 Eleonora Bonacossa speaking at a workshop she gave at the GA
In addition to discussions and debates on the three core themes of Leadership, Strategy and Communication, aimed at taking SIE to the next level, opportunities were provided to participate in unique and impactful workshops.
The current global challenges, as well as those within Soroptimist International, are demanding us to be courageous, authentic, bold and proactive.
In short, to be good leaders and even more – Game-Changers!
But how do we accomplish this?
By avoiding the 5 big leadership traps
Selfishness and power cravings (self-referentiality)
Poor leadership skills (no competencies)
Non-cooperative and inclusive attitudes (egocentrism and hierarchy)
Maintaining the status quo (immobility, the contrary of being innovative)
Micromanagement and complex bureaucracy.
And by developing strategies in
Fostering inclusion and diversity
Remaining human
Having positive relational energy
Becoming game-changers
As Seth Godin (coach, marketing expert and keynote speaker) boldly put it:
"When everything out there changes, the 'normal' no longer exists and disruption has become our routine, we -as SI-Leaders- must change too – or, if we cannot, we must make way for those who can!"
By Eleonora Bonacossa
SI Frankfurt Vision (Germany)